What's going on Hollywood? Have you officially run out of ideas?

Today, Santa Monica-based Helix Films announced that it has formed a partnership with Meccano Toy Company to develop a 3-D feature film based on the company's long-running line of Erector Set toys.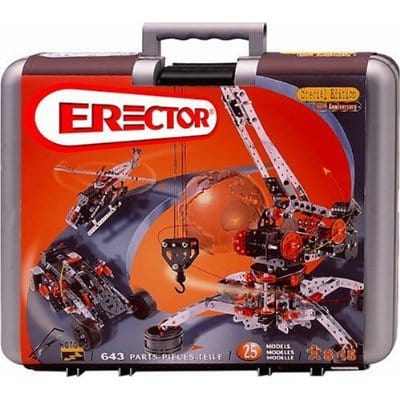 "The three partners of Helix all grew up playing with Erector Set toys but in different countries--Kevin Foo in Australia, Gaukhar Noortas in Kazakhstan and me and my brother Robert in the U.S.--so our partnership with Meccano is very personal, as well as exciting," says Helix's Steven-Charles Jaffe. "We believe the iconic Erector brand offers generational appeal with global reach, providing a tremendous platform to create a thrilling film franchise that boys, girls and adults will all adore."
"The very core of Meccano/Erector is about creating educational toys that enable children and adults to imagine and create completely new worlds," said Michael Ingberg, CEO of Meccano Toy Company. "It's perfect for a film franchise as it is certain to entertain but also stimulate creativity and imagination as the Erector toy system has done around the world for nearly a hundred years."
Okay, Erector Sets have been around since the early 1900's, great. But do we really need a movie based on them? What could that movie possibly be? It's the same questions I ask when I hear Hollywood is developing projects like the ViewMaster movie. At least the Sims movie is based on a currently popular video game, and Stretch Armstrong has bagged Twilight's Taylor Lautner.
In all honesty, I'd rather sit through The Wolfman again than get a gander at a movie based on an Erector Set, but I'm not the target demographic. Also, I know it's the brand, but I suggest they try to avoid use of the word "erector" wherever possible, for obvious reasons.