The biggest movie of all time is coming into your living room sooner than you think. James Cameron told The Wall Street Journal yesterday that Avatar would see a DVD/Blu-ray release on April 22nd... Earth Day.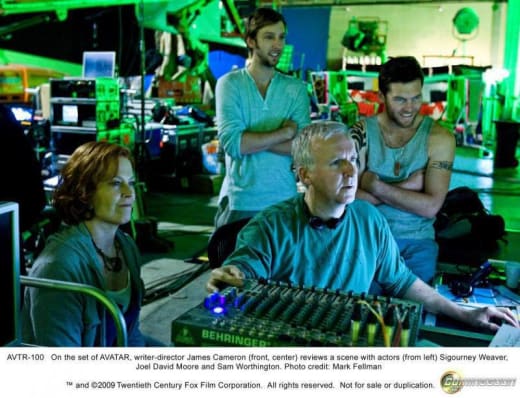 "It's all right on schedule," said Cameron. "We'll do the Blu-ray and the standard def DVD April 22nd, that's our plan as of right now, and that'll be pretty much bare bones. And then we'll do a value-added DVD and a 3-D Blu-ray in I think November sometime."
Cameron added that he hopes to do a sequel to Avatar "cheaper and faster," claiming the sequel will be  "a continuation of the same characters. We're going to widen the universe in quotes, meaning the envelope of the setting of the story."
All this while he's out promoting the film for the upcoming Academy Awards, in which he's going toe to toe with his ex-wife Kathryn Bigelow, for her work in The Hurt Locker. Bigelow would become the first female director to win an Oscar, but to do that, she'll have to beat out Cameron.
"Honestly, it blunts my desire to go after it quite so aggressively, because I'd love to see her feted and anointed as the first female director [to win an Oscar]," said Cameron.
The Avatar director also recalled directing Bigelow in a music video he made for friend and frequent collaborator Bill Paxton and his band Martini Ranch.
"The whole thing was made for some ridiculously small amount of money, everyone did it for free," says Cameron of the music video. "And I had met Kathryn recently, she had just cast Bill in 'Near Dark'…we talked her into playing the Clint Eastwood character and of course she was great. I think that's the only acting I ever heard of her doing."
Curious to see Bill Paxton's short-lived music career as much as you are to see a music video directed by Cameron starring Kathryn Bigelow? Well, then check out Reach by Martini Ranch in our Avatar videos section!