Pyrotechnically proficient Michael Bay has found a few places he'd like to see destroyed in Transformers 3: Chicago and Moscow. His wesbite, MichaelBay.com posted an update yesterday informing audiences to watch out for big 'splosions in these cities:
"Spoke with Michael today and got some little info on TF3: there will be big action sequences shot in Chicago and Moscow this time around." Chicago and Moscow: You have been warned!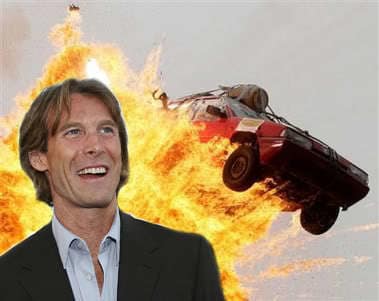 The site also updated this morning with a little more info about what Bay has in store story-wise for the third installment of the Transformers franchise:
"You can't just rehash the old," he explained. "We're adding a lot of new elements. We're adding new characters. We're adding a lot of twists."
Bay even went so far as to comment on the possibility of Transformers 3 being Transformers 3-D:
"It's a process we're testing with some 'Transformers' scenes," he said. "How successful it is with my movie in terms of a lot of real stuff coming out of the frame, real dirt, real complicated little particles coming towards the lens, because hopefully that process will work. I've seen some tests that look great on other movies. I just want to see how it looks on my footage."
Despite what Bay says about adding twist and turns and new characters, we know better. If Transformers 2 was any real indication, then Transformers 3 will probably look something like this:
[video url="http://www.moviefanatic.com/videos/michael-bay-explosions/" title="Michael Bay Explosions!"] [/video]