Last month, we reported that Ian McShane will be boarding the fourth Pirates film as the villain Blackbeard, with Johnny Depp and Penelope Cruz (Vicky Cristina Barcelona).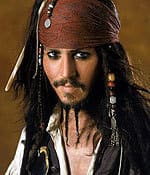 MTV talked to producer Jerry Bruckheimer (Pirates of the Caribbean) and he revealed that Cruz will be playing Blackbeard's daughter, "She's the daughter of the bad guy," he said. He added that Blackbeard is "the nastiest pirate ever."
He also confirmed that Geoffrey Rush will indeed return as Barbossa to the film. Bruckheimer said that the fourth film will be taken in "a whole new direction."
Rob Marshall will direct for a May 20th, 2011 release.