More sad news out of Hollywood- former child actor Corey Haim has passed away at the age of 38. Haim reportedly collapsed in his Los Angeles apartment, which he shares with his mother. He was rushed to Providence St. Joseph Medical Center in Burbank, California, early Wednesday, where he was pronounced dead at 2:15 a.m.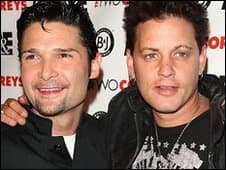 Haim had fought a lifetime of drug addiction, but was recently showing significant signs of recovery; he had been "weaned down to literally zero medications" in the last two weeks by an addiction specialist.
Haim's longtime friend and Lost Boys co-star Corey Feldman spoke out on CNN's Larry King Live, taking a defensive stance over his friend's death and the implications that Haim's passing could have been drug-related, stating that until an autopsy report is issued, "nobody knows and nobody's going to know."
"I know that there were symptoms that he was showing that expressed it could be a number of things," Feldman said. "This could have been a kidney failure. This could have been a heart failure."
Feldman was also quick to lash out at the media, singling popular slam rags like TMZ.com.
"In Hollywood, we build people up as children, we put them on pedestals, and then when we decide they're not marketable anymore, we walk away from them. And then we taunt them, we tease them, and then TMZ and outlets like that, where it's acceptable in society,  it's okay for society, as a whole, to poke fun at, to point fingers at, to laugh at... us as human beings," ranted Feldman.
"Why is it okay to kick someone when they're down? I don't think it is. I don't think it should be tolerated anymore, I don't think it should be accepted anymore within our society, within the entertainment industry, within the world as a whole."