Clash of the Titans opens in standard 2-D and 3-D theaters this Friday, April 2nd!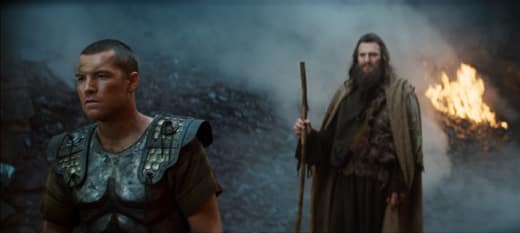 The remake of the 1981 Ray Harryhausen special effects extravaganza stars Sam Worthington, Liam Neeson and Ralph Fiennes. Worthington stars as Perseus, bastard son of Zeus, who gets caught in a power struggle between the gods. When Hades makes a power play for Earth and the Heavens, Perseus must fight the deadly minions of the Underworld to keep his enemy from taking Zeus' power and conquering his world.
Don't wait for the weekend, damn the gods now with our Clash of the Titans quotes!
Perseus: Somebody has to make a stand! | permalink
Hades: Let me loose upon them...
Share this quote | permalink
Zeus: Your true destiny...
Share this quote | permalink
Andromeda: The gods need US! They need our prayers! What do WE need the gods for?
Share this quote | permalink
Perseus: Everyone I loved was killed by the gods...
Share this quote | permalink
Perseus: I'm not one of you! I'd rather die than stand alongside you!
Share this quote | permalink
Io: [to Perseus] Only you can save them...
Share this quote | permalink