Say 'hi' to the smurf! We previously released The Smurfs poster to show that it was really on. But here's the latest on The Smurfs. UGO.com was able to get their hands on a black-and-white image from the upcoming Smurfs adaptation of the 80s cartoon. This picture features a little guy who goes by the name of "Smurfy."
The Smurfs, based on a Belgian comic strip, were a Hanna-Barbera production that ran from 1981 to 1990. The show is about a bunch of tiny blue humanoids living their lives in a forest village. Scooby Doo director Raja Gosnell will be helming the product under Columbia Pictures.
Take a look at the image below: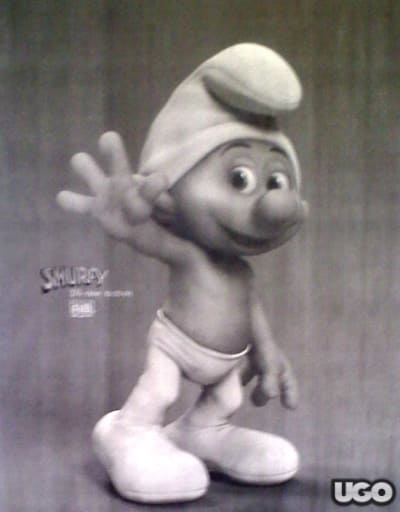 Furthermore, Neil Patrick Harris is slated to star in the adaptation, according to Deadline Hollywood. He will not be voicing one of the Smurfs, but rather play the lead live-action character.
Harris will be on a hiatus from How I Met Your Mother when the production begins filming in April.
Alan Cumming, George Lopez, and Jonathan Winters have all signed on to voice The Smurfs. Katy Perry is also in negotiations to play Smurfette.
According to Variety, Alan Cumming and George Lopez will voice Gusty Smurf and Grouchy Smurf, respectively. Katy Perry is in talks to take the role of Smurfette. And Jonathan Winters has signed up to reprise his role as Papa Smurf.