Paul W.S. Anderson (Resident Evil and Death Race) has officially signed on to direct a 3D adaptation of Buck Rogers. Iron Man co-writers Art Marcum and Matt Holloway will pen.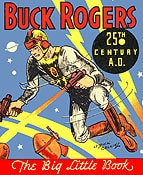 Buck Rogers, the fighter pilot who wakes up in the 25th Century, is being relaunched as a 3D screen hero. Paul WS Anderson has locked a deal to direct a new version of the classic tale of a fighter pilot who quickly acclimates to the future and puts his skills to use defending the planet against invaders. The character launched in the 1920s and has been the subject of comic books, radio and movie serials, and two TV series, the latter of which ran on NBC and starred Gil Gerard.
Anderson, who most recently directed Death Race, is currently in post-production on Resident Evil: Afterlife. Summit Entertainment, the guys behind the Twilight movies, will be the North American distributor and international sales agent. They are planning to cast for a fall shooting schedule.