While Will Smith's involvement in Men In Black 3 is still under wraps, it seems like another sci-fi project may be in his future, maybe even two!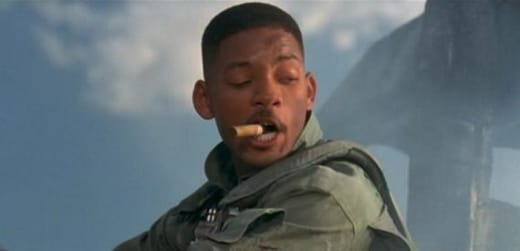 IESB is reporting a rumor that Will Smith has signed a deal with 20th Century Fox to star in not one, but two Independence Day sequels, to be made back to back! A while ago, 2012 director Roland Emmerich said that while he and ID4 cohort Dean Devlin had decided on a story, the main stumbling block concerning an Independence Day sequel was Fox's refusal to sign Will Smith for his usual quote, which is a hefty $20 mil up front, plus first dollar on the gross.
Well, it seems Fox may have gotten over the financial hang-up in the wake of the huge success of Avatar. The studio has plans to pursue a sequel to that franchise, but due to Cameron's pace, Avatar 2 is at least four years off. So, the company is looking for another billion-dollar franchise to fill the gap. Independence Day raked in over $817 million worldwide theatrically, plus well over $200 million in the home video market. That's a bingo!
If the rumors prove to  be true, the two sequels could start shooting as early as 2011. Now that's what I call a close encounter!