So, neither the Saw franchise nor Cary Elwes' career have been doing particularly well lately, maybe they'll have better luck teaming up again? This can only be what's going through Lionsgate's collective corporate head as they announced today that Cary Elwes will indeed be reprising his role as Dr. Lawrence Gordon in the seventh Jigsaw trap, Saw VII 3-D.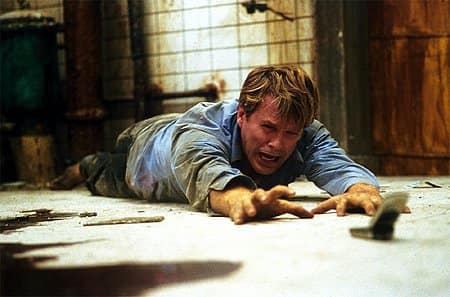 Lionsgate will bring the newest Saw, despite plunging box office and lack of critical interest in Saw VI, on October 22. In the new installment, a deadly battle rages over Jigsaw's brutal legacy as a group of Jigsaw survivors gathers to seek the support of self-help guru and fellow survivor Bobby Dagen (Flanery), a man whose own dark secrets unleash a new wave of terror.
Doesn't sound all that rousing to you either? Well, maybe it'll make good use of 3-D. Okay, yeah, there's really no reason for this film to exist, but we all love Cary Elwes here, if not for The Princess Bride alone, so we'll give it a pass for now and wait to judge until Halloween rolls around.