Warner Bros.' remake of Clash of the Titans owned the box office this Easter weekend, raking in an estimated $61.4 million in ticket sales, and setting a new record for an opening on that holiday weekend, besting Scary Movie 4's $40 million in 2006.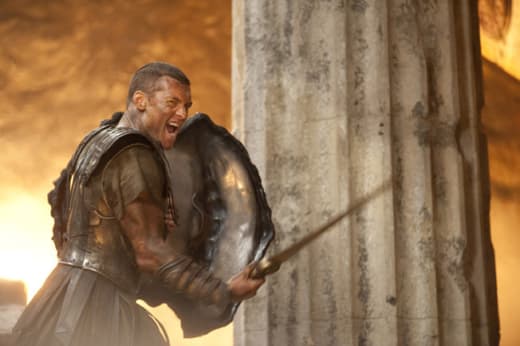 Internationally, Clash earned $44.2 million, adding up to a worldwide total of $108.3 million from both 2D and 3D theaters. The mythic epic directed by Louis Leterrier stars Sam Worthington, Liam Neeson, Ralph Fiennes, Danny Huston, Gemma Arterton, Mads Mikkelsen, Jason Flemyng, Alexa Davalos, Izabella Miko, Nicholas Hoult and Pete Postlethwaite and cost about $125 million to produce.
Tyler Perry's Why Did I Get Married Too? came in second with $30.2 million, while Dreamworks' How To Train Your Dragon dropped to third, adding $29.2 million, bringing its total up to $92.3 million so far.
Miley Cyrus' The Last Song came in forth with $16.2 million, while Tim Burton's Alice in Wonderland rounded out the top five with $8.3 million, which brings its total to $309.8 million.
Here's a more detailed look at the numbers for the Top Five at the box office this week:
Clash of the Titans - $61,400,000
Why Did I Get Married Too? - $30,150,000
How to Train Your Dragon - $29,200,000
The Last Song - $16,203,000
Alice in Wonderland - $8,267,000