When you go see a movie like Hot Tub Time Machine, you have to be willing to put certain laws of reality aside and suspend your disbelief. I mean, it IS called Hot Tub Time Machine.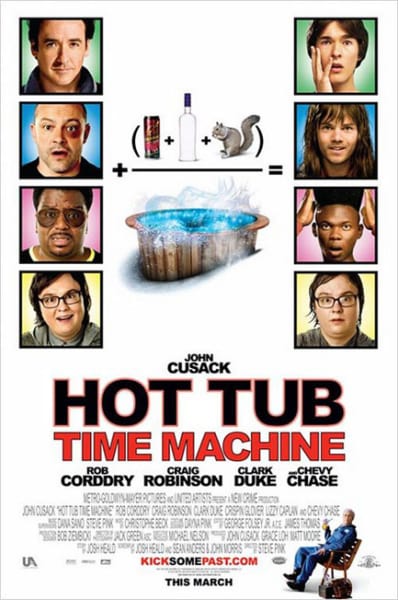 Basically what Steve Pink and company have done here is taken a little bit of The Hangover and slapped it together with generous helpings of everyone's favorite time travel comedy, Back to the Future. While the film isn't nearly as good as either of those modern classics, it's still a lot of fun. If Hot Tub's similarity to BTTF weren't made clear enough in the trailer, it's enhanced in the film by the addition of several elements that strongly reference the latter film, from the appearance of Crispin Glover as a one-armed bellhop to Chevy Chase playing a cryptic hot tub technician who delivers lines like a heavily tranquilized Christopher Lloyd.
But that's why it works. The movie isn't trying to be original as much as it's trying to have a good time, and in that regard it succeeds rather well. People who are out to see a movie that takes anything seriously might be less disappointed in the 3-D version of Clash of the Titans... or maybe not. This is hardly a knock to Hot Tub, as its goofiness is its strongest asset. The film is filled with ridiculous, hilarious dialogue, over-the-top scenarios and characters, and absurd sight gags.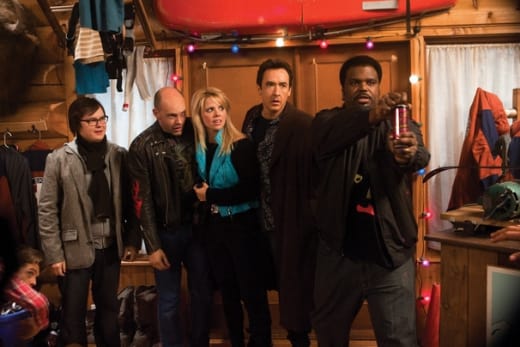 What really grounds the film are the performances by the four lead characters: John Cusack as Adam, Craig Robinson as Nick, Rob Cordry as Lou, and Clark Duke as Adam's nephew Jacob. They play four guys who, due to the reckless actions of one of the group, all take a trip to an old haunt in the snow-capped mountains for a ski weekend getaway. What they don't plan on is the ski lodge being run down and crappy, as if reality is trampling on their memories as much as it's trampling on their current lives.
Adam is divorced and comes home to an empty house, his wife having taken his prized plasma tv, while his nephew Jacob is living in his basement to escape his mother, Adam's notoriously slutty sister. Nick is a failed singer and an attendant at a pet salon and health center, who busies himself daily with fishing car keys out of dog excrement. And then there's Lou, who is a loud, foul-mouthed, hard-drinking, middle-aged jerk who never grew up, and we're led to believe that he's either suicidal or just reckless enough to accidentally off himself, necessitating a vacation with his old friends.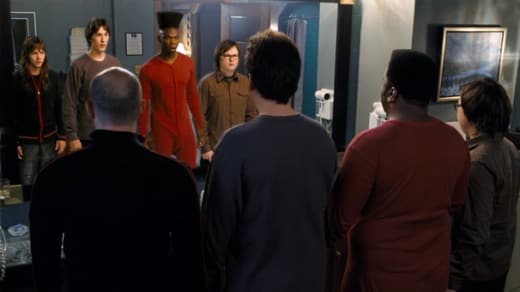 Once at the old ski resort of their youth, the four men decide to get wasted in the suspiciously shimmering hot tub behind their suite. A night of hard drinking ensues and the guys wake up in 1986. From here on out, it's a comedy of sight gags, movie references and nostalgic jabs layered in amongst the typical modern raunchy jokes. Beyond having to make sure that they don't mess up their own pasts, the guys discover Jacob is flickering in and out of reality. When the gang runs into Jacob's mother, it's apparent that they have to ensure that he's conceived, which leads to one of the more hilarious plot points of the film.
Saying much more might ruin some surprises, but we'd be remiss to leave out the always fun to watch Lizzie Caplan as an alternate love interest to John Cusack's Adam. A lot of the meat of the story revolves around her character and the what-ifs that would result, throwing a monkey wrench into the plan of the three friends to duplicate everything they did back in the 80's.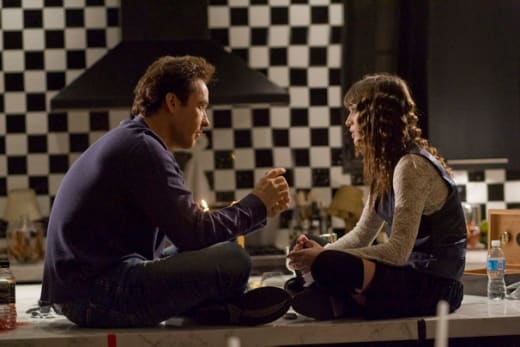 Not all is hunky-dory in Time Machine, however, as the contemporary jokes can feel just as dated as the nostalgic ones. Only time will tell if these will become an interesting double-jokes or not. For instance, I was watching Demolition Man the other day, and some of the more topical comments concerning the early 90's were far more hilarious and antiquated than the writers originally intended (hint: Jeffrey Dahmer in cyro-stasis). So, all the mentions in Hot Tub of Facebook and Twitter may one day sound just as ridiculous as the parodied styles and language of 1986.
However, as the movie's premise is four guys traveling back in time in a hot tub, I think I can let all that slide. Just enjoy the nostalgic hijinks, the retro soundtrack, and all the raunchy Hot Tub Time Machine quotes!