I wrote off any hope of ever seeing the original Star Wars trilogy in its original form in a high quality presentation ever since George Lucas was quoted as saying those versions didn't exist, and if anyone wanted to see them, they were available on VHS. What a dick. 
Well, who knows if we'll ever get a high definition transfer of the theatrical versions of those beloved films, but Lucasfilm is apparently planning a box set of all six Star Wars films for release on Blu-ray disc.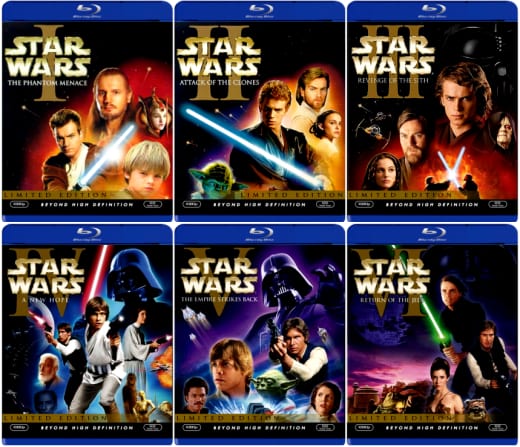 Lucasfilm Director of Fan Relations Steve Sansweet made an announcement at the Chicago Comics and Entertainment Expo this past weekend, stating the company has been working on the box set. 
We have been at work for a couple of years working on - I won't call it the Ultimate Set because we keep finding stuff - but, a very full set of all six movies on Blu-ray with lots of extra material," Sansweet told IGN. "We're finding all kinds of scenes from dailies that have never been seen before. Beyond all of those things that you know about… there are some real treasures."
While they can keep the first three movies in the vault for all I care, I would definitely love to see the original films in 1080p glory, even though the updated special effects taint the experience. 
Sansweet also postulated on the idea that Lucas wants to re-release Star Wars theatrically with new 3-D versions:
"George has publicly expressed an interest in doing Star Wars 3D. Right now there are a number of different technologies, there's some criticism out there about some of the movies that have quickly changed to 3D, so you have to pick the right technology, you have to get it to a cost that makes sense, and you have to have the time of the director and producer -- George -- to actually go in there, because you can't push a button and stuff goes in one end and comes out 3D… 

"Saying all that, George remains very interested in doing the Star Wars movies, all six, in 3D, and I hope it will happen someday in the not too distant future."