It looks like Kick-Ass didn't kick so much ass as How to Train Your Dragon jumped back to the #1 spot at the box office this weekend with $20 million. This boosts the Dreamworks animated adventure to $160 million total.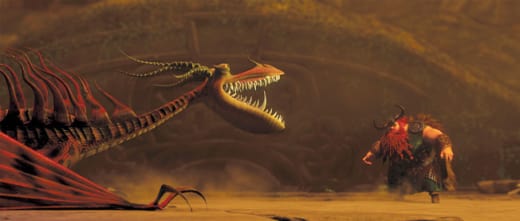 The Nicolas Cage comic book adaptation Kick-Ass landed at number two with a disappointing $19.7 million, despite being generally liked by critics and having positive word of mouth from preview screenings. Still, not a horrible opening for a film costing only $30 million. 
Steve Carell and Tina Fey landed at third this week, with Date Night dropping only 31% to pull in $17.3 million. 
Neil LaBute's reworking of Death at a Funeral came in fourth with only $17 million, somewhat below expectations. 
And landing fifth, Warner Bros.' Clash of the Titans cashed out with $15.8 million, a drop of 41%, to end up with a domestic total of about $133 million. 
Here's a closer look at the numbers for this weekend:
How to Train Your Dragon

- $20,000,000

Kick-Ass

- $19,750,000

Date Night

- $17,300,000

Death at a Funeral

- $17,000,000

Clash of the Titans

- $15,770,000