Ever wanted to fly? Ever wanted to be invisible? How about bullet proof?
Yeah, well, that's not happening, so what are you going to do? Kick some ass, that's what! And while you're at it, you can recite these memorable quotes from Kick-Ass too!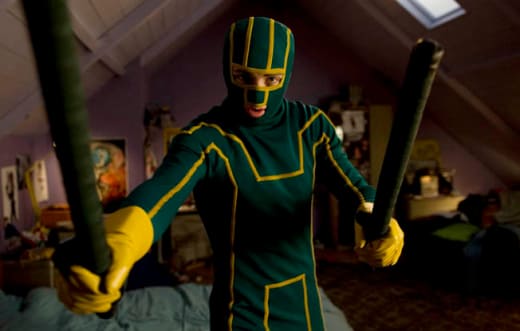 From Hit-Girl to Big Daddy, we've got 'em all! Browse a few choice selections below, and see all of our Kick-Ass quotes in the gallery!
Diner Fight Guy 1: ~ the f**k is wrong with you, man? You rather die for some piece of s**t that you don't even f**king know?
Dave Lizewski: And three assholes, laying it in one guy while everyone else watches?
[reaches for air]
Dave Lizewski: And you wanna know what's wrong with me? Yeah, I'd rather die... so bring it on! | permalink
Frank D'Amico: After hearing gunshots "Yeah that's one weird sounding bazooka" | permalink
Damon Macready: After Hit Girl takes out a room of drug dealers and is about to be attacked by a bouncer, the bouncer is sniped "We keep our backs where?
Hit Girl: To the wall, I know Daddy, it won't happen again, nice shot by the way
Damon Macready: Thank you. | permalink
Katie Deauxma: Dave,why are you dressed like Kick-ass!
Dave Lizewski: I am Kick-ass! I'm also not gay.
Katie Deauxma: F**k! | permalink
Dave Lizewski: With no power comes no responsibility. | permalink
Damon Macready: Tool up, honey bunny. It's time to get bad guys. | permalink
Dave Lizewski: How do I get a hold of you?
Hit Girl: [sarcastically] You just contact the mayor's office. He has a special signal he shines in the sky; it's in the shape of a giant cock! | permalink