Eddie Murphy "Kind of Wrote Something That Might Be Kind of Funny" For Nutty Professor 3
by Rupert Pupkin at . Comments
Eddie Murphy never ceases to amaze us. Between his career peaks and slumps, from shedding the stain of soliciting a shemale prostitue to his Academy Award nomination for Dreamgirls to bombing the box office with projects like Pluto Nash and Meet Dave, Murphy never seems to fade into obscurity.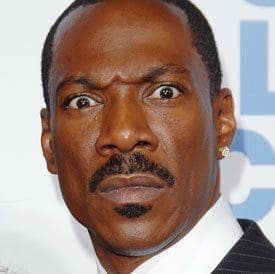 Recently, at the premiere of his latest film, Shrek Forever After, Murphy gave us a little more to talk about. It turns out that he's been working on a third Nutty Professor movie. You know, the films where he gets to play just about every character.
"You know what, there might be another 'Nutty Professor,'" Murphy told Access Hollywood at the film's premiere. "We kind of wrote something that might be kind of funny."
Wow, that sounds really fantastic, Eddie. It sounds like you're really excited about this project!
"If the studios want to do it, we'll do it," he continued. "If you don't see it, the studio was like, 'This isn't funny.'"
Well, with the Klumps collectively bringing hundreds of millions of dollars at the box office, chances are Universal will choose to mount the project whether it's filled with laughs or not.