Marvel Studios announced today that Australian star Hugo Weaving will be playing the nefarious Nazi The Red Skull in Joe Johnston's Captain America: The First Avenger. Weaving and Johnston most recently worked together on Universal's remake of The Wolfman.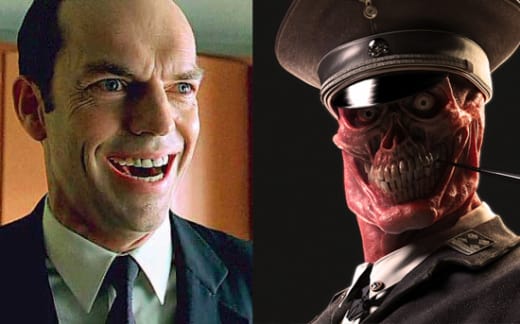 Captain America: The First Avenger will focus on the early days of the Marvel Universe, where Steve Rogers volunteers for an experimental program that transforms him into the super soldier Captain America, in order to combat the Nazi threat during World War II. At the same time in the MU, Johann Schmidt was drafted into service by Hitler's Third Reich and renamed "The Red Skull", who promptly became Captain America's nemesis.
So, it's Hugo Weaving vs. Chris Evans. Although we're still a little nervous about Johnston taking the reigns of a property like Captain America after seeing The Wolfman, the addition of Weaving to the cast is definitely a plus. Hugo was the best part of The Wolfman, and if you need any further confirmation that he'd be perfect as The Red Skull, just look at the above photo comparison!
Captain America is set to hit theater screens on July 22, 2011. Check back regularly for more updates!