Well, it's official, Men In Black III is a go, and Columbia Pictures has set a release date of May 25, 2012.  What's more is that the sequel has been confirmed to be shooting in 3D.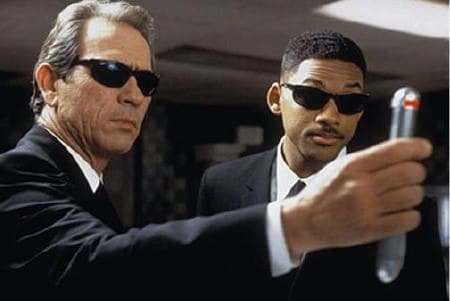 Says Sony:
"Sony's summer of 2012 will get off to a red hot start with an incredible new 3D adventure for the Men in Black. We couldn't be more excited that the original filmmaking team responsible for the first two worldwide hits is reuniting for this third installment. We love where the story is taking Agents Jay and Kay and know this new chapter will deliver a fresh fun twist for fans of the franchise while also introducing the Men in Black to a whole new generation of moviegoers."
Series director Barry Sonnenfeld will return to the helm, along with Tommy Lee Jones and Will Smith, who were confirmed to return as Agents Jay and Kay. Josh Brolin may also star as a young Agent Kay. The only question that remains now is will Will Smith get jiggy with it again?