Everyone knows the classic tale of Robin Hood- the stealthy archer turned criminal who robs from the rich and gives to the poor. The legend has had many film incarnations, from the live-action Technicolor of Errol Flynn to hand-drawn Disney animals to Kevin Costner's lack of a British accent.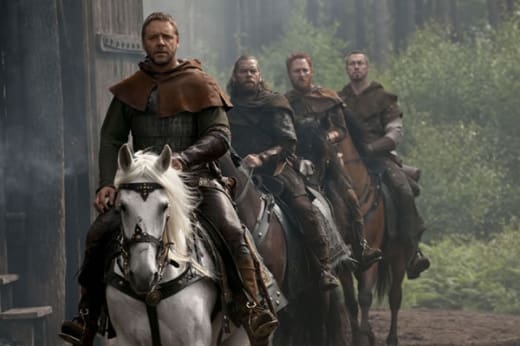 With so many versions of Robin Hood out there, some even so recent as the 1990's, do we really need a new one? Of course, because Hollywood's first priority is to make a quick buck, and the easiest way to do that is to sell audiences on well-known franchised material, because we're all too scared to try something new. Not only that, but Robin Hood is such an old property that there were no franchise rights to be purchased. Hollywood 1, Audience 0!
But who will make Robin Hood exciting for the 21st century? Enter Ridley Scott, ambitious visionary director of such films as Blade Runner, Alien, Gladiator, and Kingdom of Heaven. Take note of the last two titles for the purposes of this review.
Scott's vision of Robin Hood reaches to present a new twist on the old tale, claiming to be more of a prequel than an origin story. Sadly, the film comes off as more of a retread of Scott's previous Crusade-era epic, Kingdom of Heaven than a tried and true Robin Hood yarn. Ironically, the project began life as Nottingham, where the notorious Sheriff of Nottingham was the hero and Robin Hood was the villain. Methinks that would have been more interesting to today's audiences, but Scott and Russell Crowe apparently thought it would be more acceptable to play it straight. Boo.
[video url="http://www.moviefanatic.com/videos/robin-hood-clip-the-riddle/" title="Robin Hood clip : The riddle "] [/video]
The trouble with Robin Hood is that while the advertisements would have you believe it's a new, untold story, there's really nothing there that feels fresh. Even though it's not the same old movie we've seen before, it plays like a remix of Scott's earlier work. Even the cinematography is a retread of Gladiator's jerky, adrenaline-drenched visual style. Just one look at a scene where Robin and his men fight the French, and you'd think you were watching a sequel to Maximus' adventure.
[video url="http://www.moviefanatic.com/videos/robin-hood-clip-french-army-ashore/" title="Robin Hood clip: French Army Ashore "] [/video]
The high points of Robin Hood lie in Crowe's interactions with his Merry Men and Cate Blanchett's Maid Marion. Not surprisingly, these moments are also the closest to the original tale that we've all come to love. But they're not drawn nearly the same way, and as a result, lack the charm, wit and all-around-fun we got before.
[video url="http://www.moviefanatic.com/videos/robin-hood-robin-shares-maroins-chamber/" title="'Robin Hood' Robin Shares Maroin's Chamber "] [/video]
Mark Strong's Sir Godfrey presents a formidable foe, and Strong again proves he's a lovable bad guy, something Crowe seems to be ashamed to allow himself the pleasure of trying these days (perhaps the reason behind the material change from Nottingham?) The film's most enjoyable performance comes from the elderly Max Von Sydow, an actor who could read the phone book with enough charm and skill to win an Oscar. Okay, maybe that's going too far, but he certainly brightens up the screen with his presence, even though the writing may be heavily flawed (see Minority Report and Shutter Island.)
[video url="http://www.moviefanatic.com/videos/robin-hood-sir-walter-tells-robin-about-his-father/" title="'Robin Hood' Sir Walter Tells Robin About His Father "] [/video]
Don't get me wrong, there's a lot to love here- from the costumes and set design, to the non-action photography, the film looks excellent. Even the scope of the battle scenes is impressive, but it all just feels like it fails to earn the name Robin Hood. It's a very competently made piece of cinema, and for those who have never seen a Ridley Scott movie, probably quite gripping on those merits alone.
When it's all said and done, the thrills in Robin Hood aren't compelling enough to sustain the film's overall lack of fun, and probably won't necessitate a sequel, which would invariably be the Robin Hood story we've all grown up on. I would have rather seen the Sherriff of Nottingham as the good guy this time around.