I'll be honest, I wasn't a Sex and the City fan before seeing Sex and the City 2. I'll admit that I'm not the film's intended target audience, and never took to the first movie, though I respect the show. Now that I've gotten that out of the way, I want to make it clear that I'm reviewing this film based on its cinematic merits, not through the rosy eyes of a fan, and not through the red vision of a hater.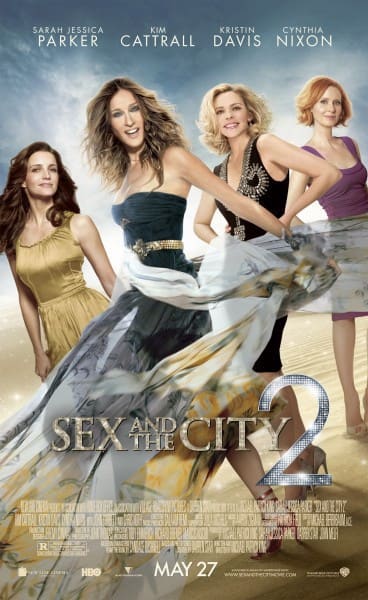 Basically, Sex and the City 2 is a sequel nobody needed. It didn't need to be made, especially within the context of the series, and nobody needs to see it. Beyond being a rehash of the characters everyone has grown to love, it's a mere shell of a movie compared to the first film, which in it's own right was a flimsy carbon copy of the original show. 
The film begins with the marriage of Stanford (Willie Garson) and Anthony (Mario Cantone), where Samantha (Kim Cattrall) manages to land an all expense paid trip to Abu Dhabi, but refuses to go without her friends. That wouldn't be so hard to swallow if it was, say, the first ten minutes of the film, but no, this plot device takes an entire half hour to unfold. And as if that wasn't painful enough, the repetition of the words "gay marriage" could make your head spin.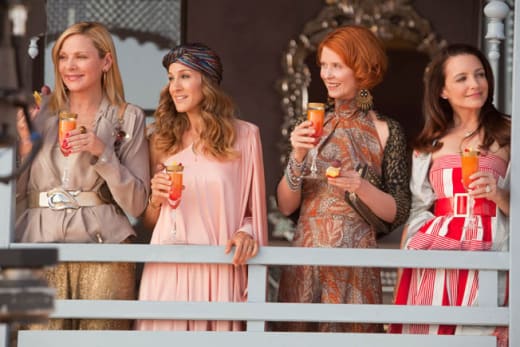 Either way, Samantha scores the tickets and convinces her girlfriends to come along, which isn't exactly a tall order; Carrie (Sarah Jessica Parker) is already having marital problems with Mr. Big (Chris Noth), Charlotte (Kristin Davis) can't stand her excessively loud children, and Miranda (Cynthia Nixon) is having problems at work. So it's off to the Middle East!
From that point, it's an additional 2 hours of bad Arab jokes, stale sexual innuendo, and prodding at middle-aged life. It's exactly what the show skirted around- a bloated and purposeless exercise in vanity and being spoiled, passed off as a story about friendship. From the moment the girls step outside New York City, it should be clear that the film breaks all the rules the series set. And you thought seeing Carrie get married was the last straw?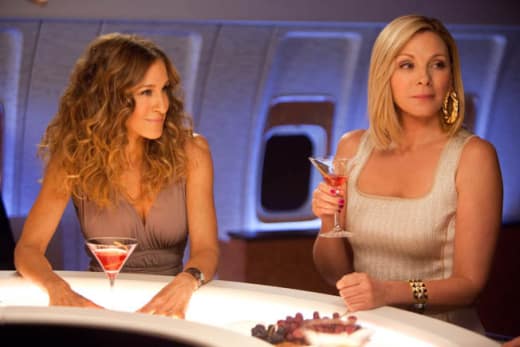 From Carrie yelling at Mr. Big about buying her a television instead of jewelry for their anniversary to a climactic chase brought on by the overwhelming desire to not fly coach, the chicness of the girls' pompous lifestyle wears down to reveal them as nothing more than obnoxious spoiled brats. It's a calling card as to why everyone hates America, and with the Arab element, I'll be surprised if someone doesn't declare jihad on Sarah Jessica Parker.
Maybe that's a little harsh, but the fact remains that Sex and the City 2 is a model of excess- excessively long, excessively vapid, and excessively unnecessary. It's so abundantly clear that it's a shameless cash-in that it makes me want to slap whoever is in charge at HBO. But then again, they didn't make this movie to tell a good story, only to make money, which it most certainly will. Even this review (or any other negative review the film garners for that matter) won't keep the crowds away, but those of you expecting the fun, laughs, and sexiness of the original series will be sorely disappointed in this tasteless imitation of Sex and the City.