Christopher Nolan has always been a soft-spoken man, which is why it's not surprising that one of the world's most daunting tasks is pulling information out of him. Nolan sat down with Empire magazine while on the PR trail for his latest film, Inception, and managed to get a few words from him about the upcoming sequel to The Dark Knight.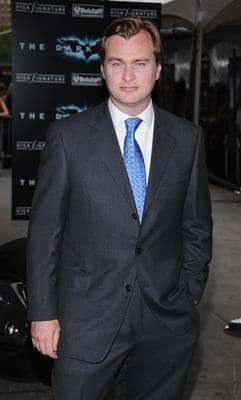 "My brother is working on the screenplay. We came up with a story that we are very excited about. We particularly like where we are taking the characters and what the ending is... There are things for me to be very excited about in addressing the characters again. But ultimately it always comes down to the script, and can we make a great film from this? That's something I will firmly be turning my attention to figuring out fairly soon." It will be, he said, "the finishing of a story rather than infinitely blowing up the balloon and expanding the story."
When asked whether the Joker would be returning to the fold with a different actor playing the role, Nolan replied, "No, I just don't feel comfortable about it."
But there's more. Nolan dished a little on the development of the new Superman project, which Warner Bros. is looking to have ready by holiday time 2012.
"While David Goyer and myself were putting together the story for another Batman film a few years ago - you know, thrashing out where we might move on from 'The Dark Knight' - we got stuck. We were just sitting there idly chatting and he said, ' By the way, I think I know how you approach Superman,' and he told me his take on it. I thought it was really tremendous. It was the first time I had been able to conceive of how you would address Superman in a modern context. I thought it was a very exciting idea."
"But it's not something for me to direct," he added. "It's something we were just trying to put together a vision for, and then find the right person to take it forward."
Is there a chance we may see a Batman/Superman team-up, like the Marvel movies?
"Marvel are doing what they do and people will respond to that really well, or they won't," said Nolan. "It's not something I ever really applied a blanket rule to, but Marvel characters are very different to DC characters, and the key DC characters are very different to the minor DC characters. You've got to go back to that element of, 'What do I see when I close my eyes and think of Batman? What do I see when I close my eyes and think of Superman?' And for me a big part of that is their individuality. They are extraordinary beings in an ordinary world. And the reason I think the two are fascinating is because Superman is very specifically superpowered and obviously otherworldly; Batman is very human and flawed. They're two very different characters, but there's an elemental feeling of power in the iconography of those characters. To me that's originally because they stood alone. I need to hang on to that in my imagining of them."