USA Today has published the first official photo from The Smurfs, the big screen adaptation of Peyo's lovable 80's cartoon.  The new image depicts the blue creatures in, of all places, Times Square!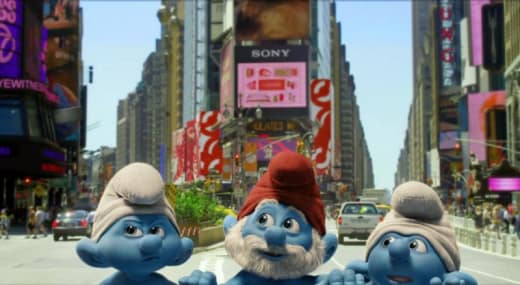 The article goes on to explain just how the cute critters ended up in modern-day New York City:
During the opening scene, set in that original time, Gargamel discovers the Smurfs' magical village and scatters them into the woods. "Unfortunately, Clumsy goes the wrong way into a forbidden grotto where a few other Smurfs follow," says director Raja Gosnell (Scooby-Doo). "Because it's a blue moon, there's a magical portal that transports them to Central Park."

Returning home is more complicated as Gargamel pursues them. The trio pictured — along with Smurfette, Brainy and a new character, the brave-to-a-fault Gutsy — take refuge with a husband and wife (Neil Patrick Harris and Glee's Jayma Mays).

Eating the Smurfs was always Gargamel's unfulfilled goal, but that's one idea the filmmakers decided to scrap. "We all wondered whether we would be making a family version of Sweeney Todd," jokes producer Jordan Kerner (Charlotte's Web). Now, Gargamel simply wants to capture the Smurfs to serve as charms, whose mystical essence will make his inept magic more powerful — and dangerous.