Toy Story 3 will be in theaters this Friday, and we've already stockpiled some of the best quotes from the film for you to enjoy!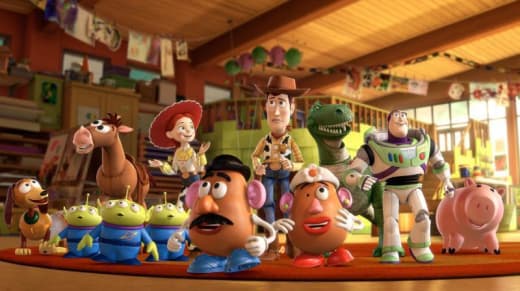 Toy Story 3 sees Andy heading off to college and all of our familiar friends from his toy chest accidentally get sent off to a day care center, which turns out to be more of a nightmare, with new toy characters with ulterior motives and new toddlers with insatiable appetites for destruction.
We have quotes from all the toys! Check out a few below, and read all of our Toy Story 3 quotes in the gallery!
Woody: [in Bonnie's room] Look, I just need to get out of here...
Buttercup: [dramatically] There is no way out!
[Woody stares at him in horror]
Buttercup: Just kidding. Door's right over there.
[he points] | permalink
Chunk: [Buzz has just successfully made it to the window over the Caterpillar Room door, at sunset, and now he hears two voices approaching in the hallway below] Heh, heh heh heh... You think they had a fun playtime?
Twitch: Shh! They might hear you!
[Buzz hears giggling to his left and looks over to another doorway where Barbie and Ken are talking to each other]
Ken: Okay, now you start.
Barbie: I...
Ken: love...
Barbie: you! Oh!
Ken: See? That time I said "love"! Okay, now me first.
[Buzz gives them a strange look]
Barbie: [overlapping] Ooh! Okay okay okay...
Ken: I...
Barbie: love...
Ken: you! You see what I mean? It changes every time!
Barbie: [laughing] You are so smart!
[Twitch and Chunk pass them]
Twitch: [grabbing Ken's collar] C'mon, Romeo. We're late. | permalink
Ken: [Giving Andy's toys a tour of the daycare, Ken passes his dollhouse] And this... well, this is where I live. It's got a disco, it's got a dune buggy, and a whole room just for trying on clothes.
Barbie: [gasps] You have everything!
Ken: Everything... except someone to share it with...
[he walks away]
Barbie: [sighs lovingly] | permalink
Buzz Lightyear: Hold on, this is no time to be hysterical!
Hamm the Piggy Bank: This is the perfect time to be hysterical.
Rex the Green Dinosaur: Should we be HYSTERICAL?
Slinky Dog: No!
Mr. Potato Head: Yes!
Buzz Lightyear: Maybe! But not right now!
Hamm the Piggy Bank: C'mon. Let's go see how much we're going for on eBay. | permalink