Disney Pixar's Toy Story 3 continued its winning streak for a second week in a row, pulling in an additional $59 million, bringing its total take up to $226.5 million.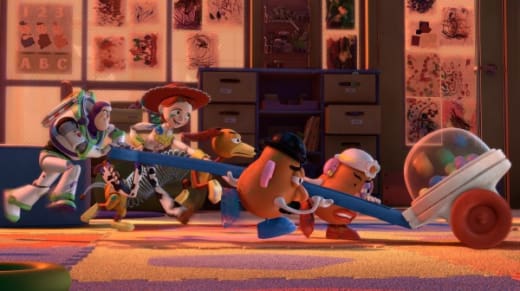 Landing second place, Adam Sandler's SNL reunion, Grown Ups captured $41 million dollars, despite a plethora of negative reviews. The new film is Sandler's fourth-highest grossing opening, right on par with Click, which opened on the same weekend four years ago.
Third place belonged to Knight and Day, which opened last Wednesday, but only garnered about $20.5 million over the weekend. Even adding the $7.3 million it made Wednesday and Thursday, the Tom Cruise action-comedy has some catching up to do.
The Karate Kid dropped to fourth place this week, with $15.4 million and a $135.6 million total. Plans for a sequel are already underway, as the $40 million budgeted film has proven to be the most profitable of the summer so far.
And in fifth place this week, The A-Team finished with only $6 million, adding up to a total of $62.8 million. It's going to need home video to make up for its $110 million production budget.
Here's a look at the Top Five:
Toy Story 3 - $59,000,000
Grown Ups - $41,000,000
Knight and Day - $20,500,000
The Karate Kid - $15,400,000
The A-Team - $6,000,000