Marvel Studios has released a new photograph depicting the Gods in Kenneth Branagh's Thor!
At first glance, the new photograph of Anthony Hopkins, Chris Hemsworth and Tom Hiddleston looks rather campy and homoerotic, but upon closer inspection, the costumes are revealed to be rather detailed and well-designed, more like functional armor as opposed to the cheesy rubber suits we're used to in superhero movies today. However, the jury is still out on Anthony Hopkins' ridiculous eye patch.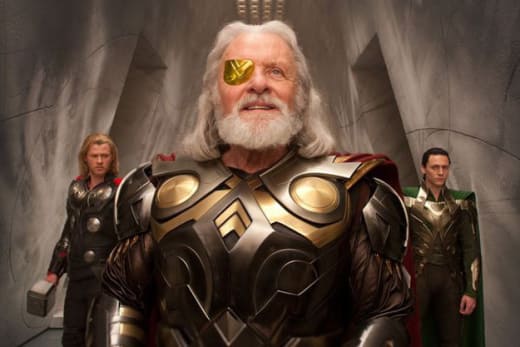 Also, The Los Angeles Times posted an article detailing that both Thor and Captain America: The First Avenger will be presented theatrically in 3-D, though both films are being shot in traditional 2-D. Hit the jump to read the article, and see all of our Thor pictures in the gallery!
"We came to feel that in our case 3-D could be the very good friend of story and character for a different kind of experience," director Kenneth Branagh said, "It's another draft of the story that can reveal itself in a different way... I had a healthy degree of skepticism up front... I've become somebody extremely excited about working with possibilities of doing it this way."

Joe Johnston, director of Captain America added, "I think it tends to be overused and can be a little bit gimmicky... A lot of people are using 3-D now because they feel have they have to... that will come and go and the pictures that deserve to be in 3-D will continue to be. When it's done bad, it can make you carsick."

Johnston went further, saying they tested a 3D rig, but it was "a nightmare" due to bulky gear, calibration issues and restricted filmmaking options. He said he's a firm believer, though, in the conversion approach if done right and he's enthused to move forward. "It's a new challenge and it's exciting."
Though both films are being shot with traditional film technology, Marvel does not intend to rush the 3-D conversion process like Clash of the Titans or The Last Airbender did, but that an "unprecedented amount of time" will be devoted to post production in order to complete the conversions to the highest of standards.