Well, consider this to be the final word on whether Ed Norton will return to fill the shoes of Bruce Banner/The Incredible Hulk in Marvel's forthcoming Avengers movie.
Last week, Marvel studios issued a press release about the matter, stating they wanted an actor "who embodies the creativity and collaborative spirit of our other talented cast members," causing Norton's agents to hit back with message declaring the behavior of Marvel Studios' president Kevin Feige as "unprofessional, disingenuous and clearly defamatory."
Well, now Norton has the final say to fans via his Facebook page: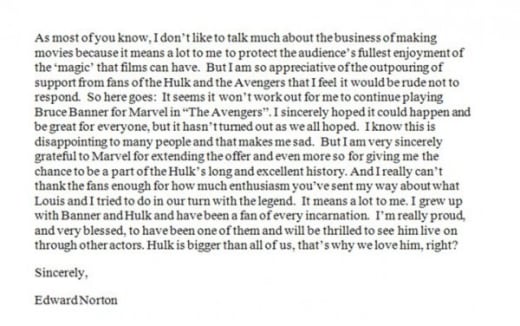 Considering reports of difficulty from the set of The Incredible Hulk, it's no surprise that Marvel is looking to replace Norton, and we wonder how sincere the actor really is in regards to this message. The current rumor has Marvel extending a hand to the enigmatic Joaquin Phoenix to play the green monster in The Avengers, which is scheduled to hit theaters on May 4th, 2012.