It isn't based on a pre-existing franchise, and it has been almost universally praised by critics from around the globe, so it was going to be a gamble whether Christopher Nolan's Inception could connect with mainstream audiences and make a serious impact at the box office.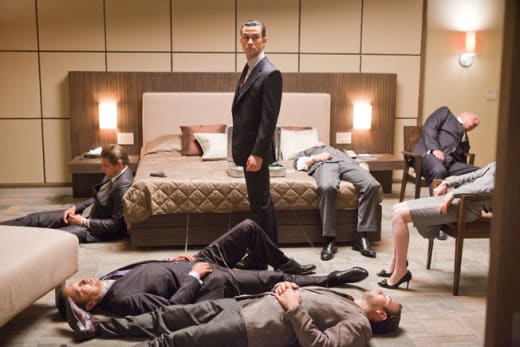 Well, sometimes dreams do come true. Inception topped the box office its opening weekend with an estimated $60.4 million, $21.7 million of that coming from Friday alone. While we knew Nolan could hit those high watermark numbers with The Dark Knight, the jury was still out whether an original idea from the director could reach such heights. It would seem that, just like Avatar, Nolan has managed to create a brand around himself that guarantees box office receipts. Oh yeah, and Inception is a genuinely good movie, too.
Dropping to second place, Despicable Me lost about 42% of its business to earn $32.7 million, bringing its ten day total up to $118.4 million.
Opening in a distant third place, Nicolas Cage's latest disappointment, The Sorcerer's Apprentice failed to connect with audiences and brought only $17.4 million over the weekend, after making only $7 million over Wednesday and Thursday. The film's poor showing is another blow to producer Jerry Bruckheimer, who already had headaches over the lacking ticket sales from Prince of Persia: The Sands of Time.  Everyone has slumps, but it would seem it is time for Bruckheimer to rethink his strategies. 
The Twilight Saga: Eclipse took a further hit this past weekend, earning only $13.5 million in its third week of release. While nothing to balk at, the film, which has earned $256 million to date, will probably fail to pass the $300 million mark.
Fifth place belonged to Toy Story 3, which passes the milestone as highest-grossing film of the year after adding an additional $11.7 million to end up with a five-week total of $363 million.
Here's a quick look at the Top Five:
Inception - $60,400,000
Despicable Me - $32,734,350
The Sorcerer's Apprentice - $17,373,000
The Twilight Saga: Eclipse - $13,497,000
Toy Story 3 - $11,742,000