Joe Johnston, the guy who most recently gave us The Wolfman, sat down with The Los Angeles Times to talk about his next project, Captain America: The First Avenger, to help promote the film for the San Diego Comic-Con. In the interview, Johnston explains how the film version of the character will be true to his comic book roots... to a point.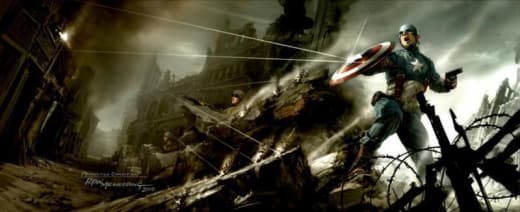 "We're sort of putting a slightly different spin on Steve Rogers," said Johnston, "He's a guy that wants to serve his country but he's not a flag-waver. We're reinterpretating sort of what the comic book version of Steve Rogers was."

"He wants to serve his country, but he's not this sort of jingoistic American flag-waver," he added. "He's just a good person. We make a point of that in the script: Don't change who you are once you go from Steve Rogers to this super-soldier, you have to stay who you are inside, that's really what's important more than your strength and everything. It'll be interesting and fun to put a different spin on the character and one that the fans are really going to appreciate."
For a better look at the new Captain America, check the gallery for our Captain America pictures!