Universal Pictures have released their newest animated adventure, Despicable Me, featuring the voice talents of Steve Carell, Jason Segel, Kristen Wiig and Will Arnett, and we've got the quotes you've been looking for!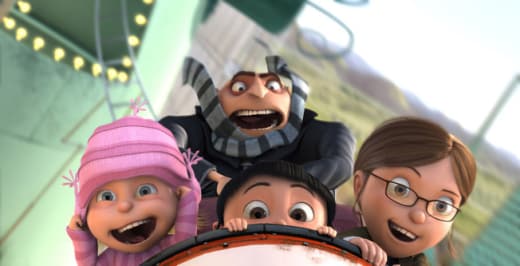 In a happy suburban neighborhood surrounded by white picket fences with flowering rose bushes, sits a black house with a dead lawn. Unbeknownst to the neighbors, hidden beneath this home is a vast secret hideout. Surrounded by a small army of minions, we discover Gru (Carell), planning the biggest heist in the history of the world: He is going to steal the moon!

Gru delights in all things wicked. Armed with his arsenal of shrink rays, freeze rays, and battle-ready vehicles for land and air, he vanquishes all who stand in his way. Until the day he encounters the immense will of three little orphaned girls who look at him and see something that no one else has ever seen: a potential Dad.
Check out some of the most memorable lines from Gru and the gang below, and see all of our Despicable Me quotes in the gallery!
Gru: [to the girls] You will not cry, or sneeze or barf or fart! No annoying sounds.
Agnes: Does this count as annoying?
[puckles her cheeks] | permalink
Gru: We are going to pull of the TRUE crime of the century... we are going to steal the MOON! | permalink
Gru: I shrink the moon, I grab the moon, I sit on the toilet bowl... what?
[sees a child's drawing in his plans, of himself sitting on a toilet bowl] | permalink
Gru: Ok... | permalink
Gru: We stole the Statue of Liberty...!
[the minions cheer]
Gru: ...the small one, from Las Vegas!
[the cheers stop] | permalink
Dr. Nefario: Here's the new weapon you ordered.
[Shoots minion with the fart gun]
Gru: No, no, no. I said DART gun.
Dr. Nefario: Oh yes. Cause I was wondering... under what circumstances would we use this?