We always knew director Alexandre Aja was heavy on the violence, what with High Tension and The Hills Have Eyes pushing the limits of on-screen blood and gore, but it seems that the geek mecca San Diego Comic-Con won't be tolerating his shenanigans this year.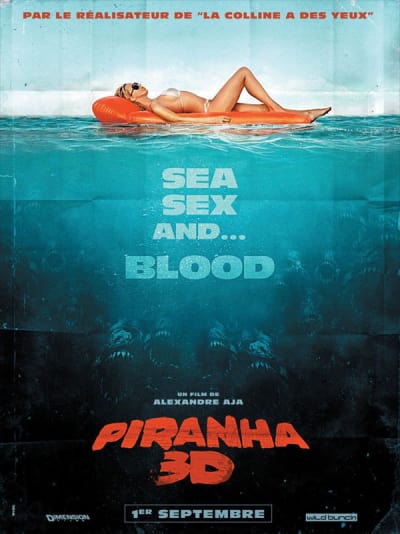 Aja was to hold a panel featuring footage from his latest creation, Piranha 3-D, a remake/sequel of the classic Roger Corman b-movie from the late seventies, which rode the "water terror" horror sub-genre wave in the wake of Steven Speilberg's Jaws. Apparently, though, the footage was deemed too intense for general audiences at Comic-Con, and so the screening and panel to be held on Friday, July 23rd were canceled.
"My understanding is that the footage wasn't all ages appropriate. We don't check ID to get into those meeting rooms, so we won't want something inappropriate," explained the convention's Director of Marketing and PR David Glanzer.
Not to accept defeat, Dimension Films has decided to move the panel off-site and invite guests to come see the footage anyway. Hit the jump to read the invitation, and catch a glimpse of the gore in our Piranha 3-D trailers gallery!
TOO HOT FOR COMIC-CON...

You are invited to attend the special San Diego screening of PIRANHA 3D footage – several minutes of never-before-seen footage that is so fantastically bloody and so intense, we couldn't show it on site at Comic-Con!

Presented by director Alex Aja; talent Q&A immediately following the footage. Details below:

Thursday, July 22nd
10:00PM – 11:00PM
PIRANHA 3D footage screening & cast/filmmaker Q&A panel
Location: Regal Horton Plaza
475 Horton Plaza
San Diego, CA 92101