Avatar Special Edition Blu-Ray On the Way... With 16 Minutes of Additional Footage
by Rupert Pupkin at . Comments
Thought James Cameron would stop at the 9 extra minutes of footage edited back into the theatrical re-release of Avatar? Think again.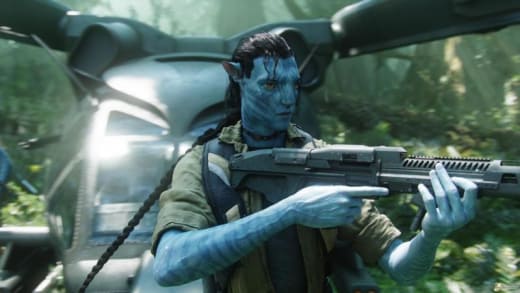 Cameron is apparently preparing no less than 16 additional minutes of material for a forthcoming special  edition Blu-Ray, which The Hollywood Reporter claims will "involve action sequences and narrative-deepening extensions of key scenes involving the blue-skinned Na'vi of Pandora and their human visitors."
"There's a whole new scene that takes place in the (Na'vi) school, there's more night bioluminescence, there's new creatures, and there is a new action scene," said producer Jon Landau. "The scenes don't just feel like added scenes — they are very organic to the story and embellish it."
So, then why go see Avatar in theaters if you're not getting all the extra footage? Well, it turns out that this special edition disc won't be in 3D, that's why! Cameron and Fox have decided to hold the 3D version off until 2011, when they hope more 3D TVs will be installed in homes. In industry speak, that means, "bleed them dry."
The extended, non 3-D cut of Avatar will be available on store shelves this November. What do you guys think? Do we really need 3 different releases of Avatar?