The Expendables held onto the top spot at the box office this weekend, bringing in an estimated $16.5 million, adding to a total take of almost $65 million. This still represents at 53% drop from week one to week two, which suggests that we're clearly in the summer doldrums.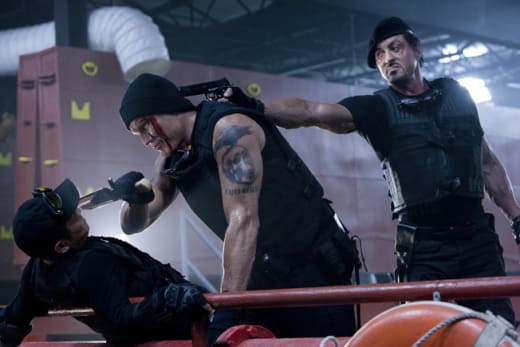 Second place belonged to the Twilight spoof Vampires Suck, which earned $12.2 million over the weekend, after having opened on Wednesday with $4 million and Thursday with $2.3 million. Eat, Pray, Love dropped to third place with $12 million, while Lottery Ticket opened in fourth position. The Bow-Wow starring comedy produced by Ice Cube earned $11.1 million from less than 2,000 theaters, which gave it this week's highest per-theater average of about $5,600.
Mark Wahlberg and Will Ferrell rounded out the top five with The Other Guys adding an additional $10.1 million for a total of roughly $88.2. Not making it into the top five this week were newcomers Piranha 3D, which earned roughly $10 million, Nanny McPhee Returns, which took in $8.3 million, and The Switch, which only opened to $8.1 milion. At least they fared better than Scott Pilgrim vs. The World, which dropped to #10 with only $5 million in its second weekend.
Take a closer look at the Top Five:
The Expendables - $16,500,000
Vampires Suck - $12,200,000
Eat, Pray, Love - $12,000,000
Lottery Ticket - $11,125,000
The Other Guys - $10,100,000