First Look at Blackbeard's Ship from Pirates of the Caribbean: On Stranger Tides!
by Rupert Pupkin at . Comments
Pirates of the Caribbean: On Stranger Tides has been busy shooting in Heeia Kea Boat Harbor on the Windward side of Oahu, Hawaii, where the full-scale version of Blackbeard's vessel, The Queen Anne's Revenge is docked for filming. The film, starring Johnny Depp, Penelope Cruz, Ian McShane and Geoffrey Rush, hits 2D, 3D and IMAX 3D theaters on May 20, 2011.
Check out the photo below of the ship docked in the harbor, and hit the jump to read the film's official synopsis and see a sneaky amateur video of Johnny Depp and Penelope Cruz performing a scene on the bridge of Blackbeard's boat! We must warn you though, the footage may offer mild spoilers!
Click the thumbnail to view larger, and see all of our Pirates of the Caribbean: On Stranger Tides pictures in the gallery!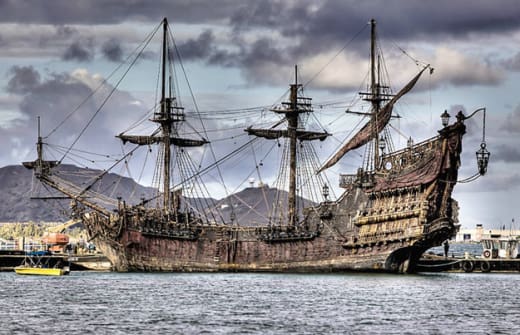 "Pirates of the Caribbean: On Stranger Tides" captures the fun, adventure and humor that ignited the hit franchise --this time in Disney Digital 3D(TM). In this action-packed tale of truth, betrayal, youth and demise, Captain Jack Sparrow crosses paths with a woman from his past (Penelope Cruz), and he's not sure if it's love--or if she's a ruthless con artist who's using him to find the fabled Fountain of Youth. When she forces him aboard the Queen Anne's Revenge, the ship of the formidable pirate Blackbeard (Ian McShane), Jack finds himself on an unexpected adventure in which he doesn't know who to fear more: Blackbeard or the woman from his past.

Rush reprises his role as the vengeful Captain Hector Barbossa, and Kevin R. McNally returns as Captain Jack's longtime comrade Joshamee Gibbs. Claflin stars as a stalwart missionary, while Berges-Frisbey is transformed into a mysterious mermaid."
[video url="http://www.moviefanatic.com/videos/secret-filming-of-pirates-of-the-caribbean-4-on-stranger-tides-w/" title="Secret filming of Pirates of the Caribbean 4 On Stranger Tides with Johnny Depp"] [/video]