Gossip Girl star Jessica Szohr sat down with our sister site TVFanatic to discuss a few things, one of them being her role in the new water monster movie Piranha 3D, which opens in theaters everywhere today!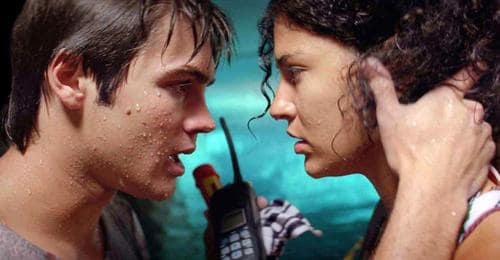 "It was really neat because it was something totally different than I've ever played. She's different from Vanessa," explains Szohr, referencing her Gossip Girl character. "And it's a horror film so having to be there and not work with any fish, fake ones or real ones, and have to pretend that they're there and we're swimming away from something that's not actually there was fun. I tried to be as organic and real and into character as much as I could and hopefully that will come across on screen."
"We did some water training, which is interesting because I never thought I could hold my breath for a minute and 45 seconds underwater after the training. It was really scary when filming. I'm no claustrophobic, but I'm not the biggest water fan ever to begin with, but doing these breathings exercises and having to film it without goggles on and going through these tunnels 7 feet under water was pretty scary. I tried my best. They have so many people around with breathing tubes and everybody right one top of me if I was running out of breath, so I felt safe and secure with how much help I had around."
Check out the rest of the interview at TVFanatic, and see Jessica in Piranha 3D, in theaters now! If you can't make it to the theater at the moment, do the next best thing and peruse our Piranha 3D picture gallery, or watch some clips from the film in our Piranha 3D trailers gallery!