Harry Potter and the Deathly Hallows, Part I still has several months worth of post-production work to complete before premiering in cinemas on November 19th, 2010, but audiences in Chicago were treated to a test screening and some of them have posted their thoughts for all to see!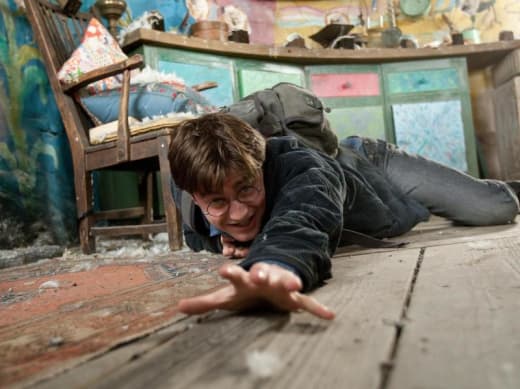 CAUTION: THE VIEWS BELOW MAY CONTAIN SPOILERS!!!

From /Film reader Kyle:
"Harry Potter and the Deathly Hallows, Part I is a great continuation of the series, thematically and visually in line with films 5 and 6. Though it is a fast-paced film, with several nice set pieces and much-improved performances from the young cast, it does suffer from two major problems. First, it faithfully adapts the seventh book, including the book's own problems. The "camping in the wilderness" scenes become quite repetitive, and the attempts at drama/angst amongst the trio during these scenes comes off as tired. Also, the scenes involving the locket horcrux causing its wearer to be angry/aggressive are far too reminiscent of Lord of the Rings."
From MuggleNet reader Gaby:
"This film felt very perfect. I don't remember feeling this satisfied with a Harry Potter movie since Chamber of Secrets. By this, I mean that the experience of seeing this movie almost exactly mirrored my experience reading the book all those three years ago… I cannot wait to see this movie again. It's going to be spectacular and even more perfect. To believe that this is just Part 1 is crazy. To just imagine Part 2 is too much because if it is like anything like this (which it probably is), it will be even more perfect.
From MuggleNet reader Kyle:
"First off, this is the most perfect Harry Potter film ever. The movie on a whole is amazing and dark. Everyone was on top of their game. Everything was perfect. Dobby's death was done perfectly. You could see the emotion in Harry and the gang. We saw green screens of course (because the film's digital effects were not yet complete), but it didn't affect me at all. The audience LOVED Dobby. Everyone was clapping when we saw him."
Each site has more reviews on the film, so check them out! While these are clearly fan reactions, not professional reviews, the buzz seems pretty concretely positive, which I'm sure all of you Potter fans will appreciate. I'm sure Warner Bros. will be sending Harry off in style and trying to get it as close to perfect as possible. And they better be, having split the book into two movies.
Anyway, hold tight until November, and until then, peruse our Harry Potter and the Deathly Hallows pictures and and Harry Potter and the Deathly Hallows trailers galleries!