Grease is the word.. for Justin Bieber. The barely pubescent pop star is apparently drunk off the news that Paramount is making his biopic, as he told The Sun that he wants to play Danny Zuko in a remake the iconic John Travolta musical.
"It would be a lot of fun. It's been talked about a lot over the years, but it would be awesome to play Danny," said Bieber. But that's not all... Bieber has someone in mind to play his romantic interest.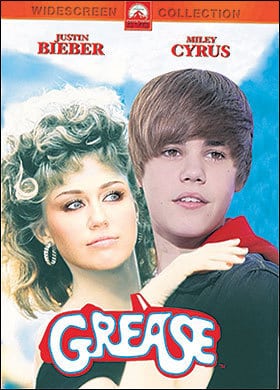 "I would go for Miley Cyrus without hesitation. She can sing, dance and act," he continued. So let's get this straight: Miley Cyrus to replace Olivia Newton-John as an innocent school girl who turns into a seductive biker chick? Judging by Miley's bug upset over her Vanity Fair spread, Bieber might not be so crazy after all.
The scariest part is that it may actually happen. With Bieber's biopic being bankrolled by Paramount, who also owns the Grease franchise, it could signal that the studio is looking to build a relationship with the young singer. And you know how Hollywood salivates when it sees dollar signs...
But Bieber doesn't stop at Miley Cyrus: "Wouldn't Susan Boyle make an amazing Principal McGee? We'd just need to write it into the script that she broke into song," said the pop star. "I would love to include Cheryl Cole as well. She would look great in the Rydell High cheerleading uniform."
Don't get ahead of yourself, Justin. You still have to make that biopic, and it has to not suck before you can tackle one of the most beloved movies of all time.
Read more about Bieber's Grease fetish at The Hollywood Gossip