The Expendables' success at the box office marks the return of vintage American adrenaline cinema, and now you can get in on the action with our Expendables quotes!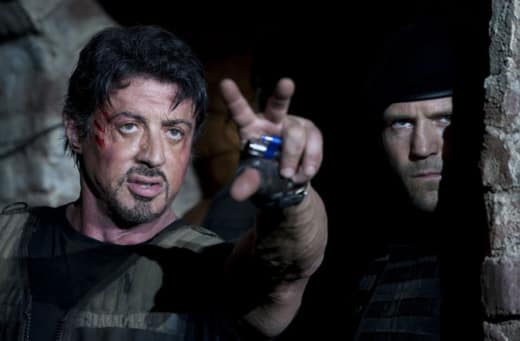 Join Sylvester Stallone, Jason Statham, Jet Li, Terry Crews, Randy Couture, Steve Austin, Mickey Rourke, Dolph Lundgren and Eric Roberts in reliving the best scenes from the new king of action movies!
Check out a few of our Expendables quotes below, and see the rest in the gallery!
Barney Ross: We are the shadow, the smoke in your eyes, the ghosts that hide in the night. | permalink
Trench: Give this job to my friend. He loves playing in the jungle, right?
Barney Ross: Right. | permalink
Hale Caesar: Great, they got a small army. What have we got?
[looks at Yin Yang]
Hale Caesar: Four and a half men.
[Everyone but Yin Yang laughs]
Yin Yang: Not so funny. | permalink
Lee Christmas: Ten seconds you won't believe what's gonna happen. | permalink
Lee Christmas: You know it's not easy being your friend. | permalink
Hale Caesar: What happened to you?
Barney Ross: I got my ass kicked. | permalink
Mr. Church: Only thing you need to know is the job's real, and the money's real. | permalink
Dan Paine: Who sent you?
Barney Ross: [to the bald Dan Paine] Your hairdresser! | permalink