Dimension Films has announced that they're moving ahead with a sequel to Piranha 3D, after the film garnered $10 million its opening weekend. Wait, what? $10 million is hardly a payday, but it would seem that Dimension feels that the films performance is strong enough to warrant a sequel.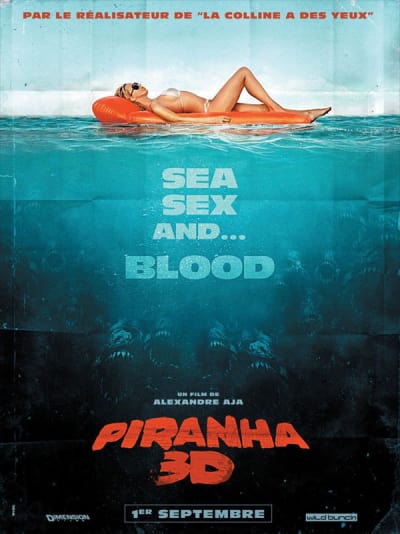 Dimension's decision seems to be based solely on the film's RottenTomatoes.com ranking and the opening weekend take, which is considered rather low by summer standards. All of this is before even taking into account the film's performance without the 3D layer, which will arrive on home video in the near future. Many lower budget horror films tend to find bigger audiences on home video, however, a main part of the attraction for this film was the 3D aspect of it (which wasn't even good) and I wonder whether this will translate to strong sales and rentals.
Either way, read the official press release below, and please, let us know what you think-  Do you want to see a Piranha 3D sequel? Did the movie warrant a second helping? While you're at it, take a look at our Piranha 3D pictures and Piranha 3D trailers for a better look at the film, albeit non-3D!
"After earning rave reviews from top critics, wild cheers from audiences around the country, and $10 million in its opening weekend box office, Dimension Films is pleased to announce that PIRANHA 3D – THE SEQUEL is in the works.

PIRANHA 3D producer Mark Canton stated, "We are thrilled that audiences are not just loving PIRANHA 3D, but cheering for it. And it's fantastic that so many critics are really getting the movie and recommending it. We can't wait to get to work on the sequel."

PIRANHA 3D opened with fantastic reviews from top critics like the ASSOCIATED PRESS and REUTERS, enjoying a very FRESH rating of 80-82% favorable reviews on the popular movie review site ROTTEN TOMATOES throughout it's opening weekend. The movie has captured the attention of movie fans as well as elite media outlets like The Wall St. Journal, The Daily Beast and The Huffington Post. And taking Hollywood by surprise, PIRANHA 3D - via a partnership with Funny Or Die - is the subject of a much-talked about campaign to be named Best Picture of the year. Funny Or Die's "For Your Consideration" video for PIRANHA 3D took the nation by storm last week. And, as announced over the weekend, Academy Award ® nominee and Piranha 3D heroine Elisabeth Shue will debut a brand new video in the coming days on Funny Or Die.

Directed by Alexandre Aja (The Hills Have Eyes, Mirrors), produced by Mark Canton (300, upcoming Immortals) and starring Elisabeth Shue, Jerry O'Connell, Jessica Szohr (Gossip Girl), Steven R. McQueen (Vampire Diaries and grandson of the legendary actor), Eli Roth, Adam Scott, Kelly Brook (current cover of Playboy), Riley Steele, Paul Scheer, Ving Rhames, Ricardo Chavira, Richard Dreyfuss and Christopher Lloyd, PIRANHA 3D opened to rave reviews from the Associated Press and other top critics.

Every year the population of sleepy Lake Victoria explodes from 5,000 to 50,000 for Spring Break -- a riot of sun and drunken fun. But this year, there's something more to worry about than hangovers and complaints from local old timers. A new type of terror is about to be cut loose on Lake Victoria. After a sudden underwater tremor sets free scores of the prehistoric man-eating piranhas, an unlikely group of strangers must band together to stop themselves from becoming fish food for the area's new razor-toothed residents.

PIRANHA 3D is a Dimension Films release and presentation of a Mark Canton / IPW production in association with Aja/Levasseur Prods; produced by Mark Canton, Marc Toberoff, Alexandre Aja, Gregory Levasseur. Executive producers are Bob Weinstein, Harvey Weinstein, Alix Taylor, Louis G. Friedman, J. Todd Harris, Chako van Leeuwen. Screenplay is by Peter Goldfinger, Josh Stolberg.

PIRANHA 3D was released nationwide on August 20, 2010."