Although we can't say whether or not J.J. Abrams' upcoming Star Trek sequel will see Kirk fighting the legendary villain Khan, some interesting news has surfaced regarding the creative team's inspiration for Star Trek 2.  Apparently, Abrams and his cohorts are looking to The Dark Knight for Spock and Kirk's next adventure.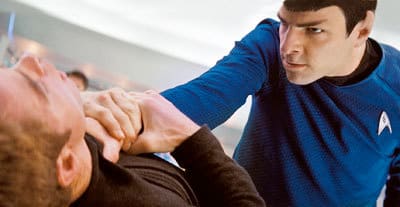 "We're looking at a movie like The Dark Knight, which went one step beyond Batman Begins," Damon Lindelof, co-writer and producer of the Trek sequel told E! Online. "...We don't want to abandon all the things that made [2009's Star Trek] work and have it be fun and emotional, but we also really want the movie to thematically resonate."
"Our aspirations are for [Trek 2] to be even bigger and better than the first one. I don't mean that just in scope, I mean content and characters and emotionally." Said executive producer Bryan Burk. "We had a lot of conversations about Batman Begins and how that movie kind of re-invented that franchise, and we looked at what The Dark Knight did and how that really ramped it up...So we have strong ideas of what we want to do and we are hoping that this one is an even bigger film than the last one."
Could all this mean that the Trek team hopes that Khan can do for them what the Joker did for Nolan's Batman franchise? I guess we won't really know until June 29, 2012, the stardate when the Trek sequel will hit theaters.