This week at the annual Star Wars Celebration V convention in Orlando, Florida, a room full of passionate geeks collectively breathed a sigh of relief, then screamed their heads off. Why? Because George Lucas has finally decided to grace the Blu-Ray format with all six of the Star Wars movies.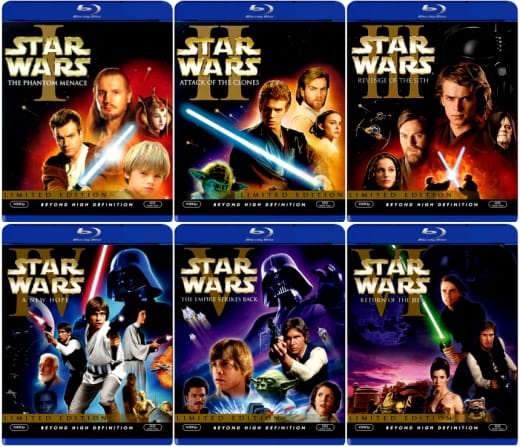 During an interview at the convention with Jon Stewart, Lucas himself announced that all six films would see a high definition release in Fall 2011. "We've been wanting to do it as soon as we possibly could, but we just wanted to do it when enough people would be able to buy it and see it."
By now, we all know how Lucasfilm does business; they wait to release their content until the market is saturated enough for them to see a certain amount of profit. So really, this isn't about giving the fans what they want as much as it is about milking more money out of the franchise. Remember the three re-releases the original trilogy saw on DVD since 2004? Expect that to happen again.
But will Lucas finally give us the long-anticipated original theatrical cuts of the original Star Wars trilogy? You know, the ones that finally made their way from crappy Laserdisc transfers to DVD as bonus discs in one of the aforementioned re-releases?
Basically no. Lucas himself referred to releasing those versions in high definition as "kind of an oxymoron because the quality of the original is not very good... You have to go through and do a whole restoration on it, and you have to do that digitally. It's a very, very expensive process to do it. So when we did the transfer to digital, we only transferred really the upgraded version."
Yeah, whatever, George. You clearly have the money to do it, and you know those discs would sell like hotcakes... So he won't give us the original cuts, but he will remaster old outtakes and deleted scenes that were recently pulled out of the Lucasfilm vaults. One of which he showed to the crowd at Celebration V, from Return of the Jedi, which depicts Luke building his green lightsaber for the third film. Watch it below!
[video url="http://www.moviefanatic.com/videos/return-of-the-jedi-missing-lightsaber-scene/" title="Return of the Jedi Missing Lightsaber Scene "] [/video]
So what do you guys think? Is this Blu-Ray going to be a must-own item or would you prefer to have the original cuts?