Following an article focusing on James Cameron's views on the future of 3D film production, I found it appropriate to address the flip side of the coin that Mr. Cameron seems to be ignoring...
Ever since Avatar was released late last year, studios have been scrambling to generate more 3D content for theaters, sometimes sacrificing quality to meet deadlines. Since December 2009, the number of 3D releases has spiked, and more and more productions have been announcing their 3D candidacy.
Despite the industry-wide push, more than a few Hollywood insiders have vocally turned their noses up at 3D filming, most notably Christopher Nolan and Joss Whedon. Looking at the numbers, the revenue of 3D compared to regular theatrical releases of the same films has actually shrunken since Avatar blew up stereoscopic screens last winter, implying dwindling consumer demand.  So, is this really the wave of the future for cinema, or is it just a fad that will fade with time?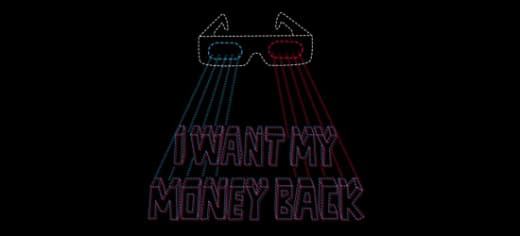 When
Inception
director Christopher Nolan was asked about whether we'd see
Batman 3
in 3D, he vehemently responded "no," citing that he doesn't like the stereoscopic technology, not just because it requires a different approach to filming on set, but because he claims it feels too artificial, even when filmed in camera. And he's not the only one who doesn't like it.
"When you put the glasses on, everything gets dim," said J. J. Abrams, director of the mega hit reboot of Star Trek, which raked in over $385 million at the box office last year, and did so in only two dimensions.
Joss Whedon, who is currently discussing the 3D candidacy of his forthcoming Marvel adventure The Avengers, told the audience at this year's San Diego Comic-Con during a panel for his long-delayed horror movie The Cabin in the Woods, "What we're hoping to do is to be the only horror movie coming out that is not in 3-D."  What's funny is that Cabin had supposedly been delayed to undergo a 3D post-conversion, before MGM's financial collapse.
Since the success of Avatar and Alice in Wonderland, exhibitors have been clamoring to equip their theaters with more digital 3D systems to accommodate the apparent demand for stereoscopic content. The next two years alone will see no less than 60 3D productions.
But we all know why Hollywood is pushing for 3D, and it's not for the enhanced experience. 3D tickets cost $3 to $5 more on average than their 2D counterparts. Clearly, just as Cinemascope was developed to combat lost revenue to television back in the 1950's, 3D has been dusted off in order to make up for lulls in ticket sales from people who would rather stay at home with a DVD or a Blu-Ray. Ironically, Hollywood keeps posting larger profits, even when in a recession, suggesting that ticket sales weren't in such a slump to begin with.
But not everyone is planning 3D movies in the future, and not everyone is craving the three dimensions as film industry pundits would have you believe. At Comic-Con, the audience cheered when it was announced that The Hobbit films wouldn't be filmed in 3D. And Jon Favreau, who's currently directing the comic book adaptation of Cowboys & Aliens, was quoted at the Con, saying "Westerns should only be shot on film," citing the need for digital cameras for modern 3D. He then quipped, "Use the money you save to see it twice."
What do you think? Is 3D here to stay? Or is it just a passing fad, as it once was in the 1950s? Let us know below!