Well, I guess America still has some balls after all. Sylvester Stallone's The Expendables raked in an estimated $35 million over the weekend, taking the number one spot away from The Other Guys, and proving that action heroes popular 25 years ago still have box-office draw.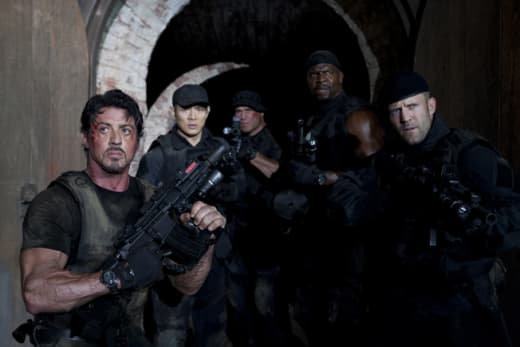 That's not to say the weekend was totally flooded with testosterone, as Julia Roberts' Eat, Pray, Love ended up in second place with $23.7 million, tracking well with studio expectations that it would follow in the footsteps of 2009's Julie & Julila. And they say Roberts and Stallone are has beens...
Third place belonged to The Other Guys, which earned an additional $18 million in its second week. Despite a 50% drop in ticket sales, it's on track to be Will Ferrell's second highest grossing film behind Talladega Nights. And coming in fourth, Inception added an additional $11.3 million to its  domestic take of $248.5 million.
Sadly, the best reviewed movie of the weekend didn't get as much love from audiences as it did from critics. Scott Pilgrim vs. The World landed fifth, with an estimated $10.5 million at the box office, but before you call it a bomb, consider the fact that it's already director Edgar Wright's most financially successful film. Distributor Universal wasn't expecting a large draw at the box office, and the mostly positive reviews seem to indicate that Pilgrim will end up finding much success on home video.
Here's a closer look at the numbers this week:
The Expendables - $35,035,000
Eat, Pray, Love - $23,700,000
The Other Guys - $18,000,000
Inception - $11,370,000
Scott Pilgrim vs. The World - $10,525,000