UPDATE: It looks as though Takers has pulled ahead of The Last Exorcism, with $20.6 million versus $20.4 million respectively. This is based on revised numbers from Sunday, where Takers outperformed Exorcism.

Audiences surprised box office analysts as The Last Exorcism and Takers both brought in over $20 million over the weekend, while the re-released Avatar failed to even register on the top ten. This is certainly a change from last weekend, when none of the films could manage to bring in more than $15 million, suggesting that the summer season had ended.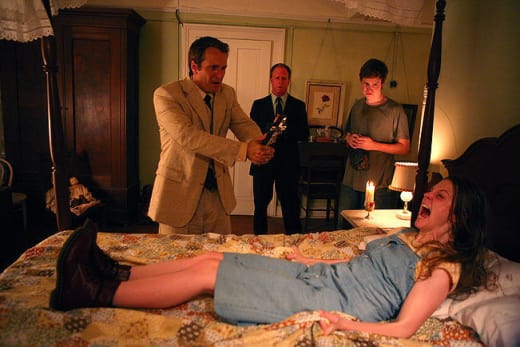 The Last Exorcism landed first with an estimated $21.3 million, which makes it a resounding success since it cost only $1.8 million to produce. Takers was a close second at $21 million, and boasted an impressive $9,500 per-screen average.
The Expendables dropped to third, earning an additional $9.5 million to have a three week total of $82 million. Not bad for a bunch of "has-been" action stars. Coming in fourth, Eat, Pray, Love added $7 million for a $60.7 million total.
And in fifth this week, The Other Guys managed to earn another $6.6 million, adding up to a total of about $99.3 million after four weeks in theaters. Honorable mention goes out to Avatar, which was re-released into IMAX 3-D theaters with 9 minutes of additional footage, bringing in roughly $4 million to land at #12 on the box office list.
Check out the numbers for the top five below!
The Last Exorcism - $21,300,000
Takers - $21,000,000
The Expendables - $9,500,000
Eat, Pray, Love - $7,000,000
The Other Guys - $6,600,000