20th Century Fox has released a new poster for the August 27, 2010 re-release of Avatar, and, well, the results are nothing less than boring. The new poster is unbelievably simple, and features nothing more than a seemingly untouched photo of Neytiri and a simplified logo, along with the bland tagline, "Back on the big screen in 3D with never-before-seen footage for a limited time only."
Now, I'm sure nobody really cares all that much whether a re-release poster is cool or not, but Avatar is the highest-grossing movie of all time. You'd think that Cameron and company might want this re-release to look a little more special than a lame poster that says "special edition".
Anyway, check out the poster below, and see all of our Avatar pictures in the gallery. Hit the jump for a press release about the re-release, which includes worldwide show dates.
Click on the thumbnail to view larger: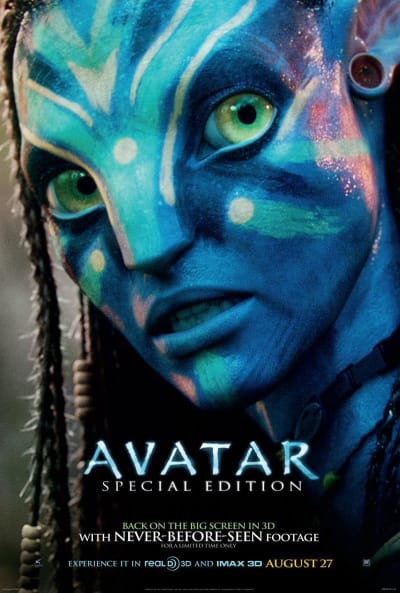 On August 27, return to Pandora and re-experience James Cameron's History-Making Epic film, with more than Eight Minutes of Never Before Seen Footage- exclusively in Digital 3D and IMAX® 3D. Since – and largely as of result of – AVATAR's release last December, the number of available digital 3D screens has exploded, and moviegoers who missed experiencing the film in 3D, as well as fans that want to return to Pandora again, will now have that opportunity.

The Oscar® and Golden Globe® winning epic is the highest grossing film of all time, taking in over $2.7 billion in worldwide box office. It is also the top-selling Blu-ray disc of all time.

International Rerelease Schedule

BELGIUM 8 SEPTEMBER 2010
RUSSIA 26 AUGUST 2010
SPAIN 17 SEPTEMBER 2010
UK 27 AUGUST 2010
AUSTRALIA 26 AUGUST 2010
INDIA 27 AUGUST 2010
JAPAN 16 OCTOBER 2010
SOUTH KOREA 16 SEPTEMBER 2010
MEXICO 15 OCTOBER 2010
ARGENTINA 16 SEPTEMBER 201