It's finally here... again. Tomorrow marks the premiere of the re-release of James Cameron's Avatar, complete with 9 minutes of new material, only showing in IMAX 3D.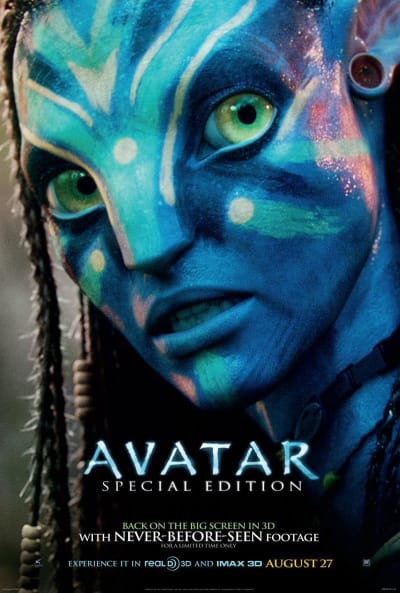 Some of you have been asking whether the film will be screening near you, as there doesn't seem to be a lot of information about how "limited" the limited release is. Well, fear not, loyal readers, we've got a list of theaters that will be playing the new cut of Cameron's masterpiece!
Check out the full press release from 20th Century Fox after the jump, and feel free to a look at our Avatar trailers section while you count the minutes until you'll be able to see Cameron's baby on the big screen again!
Following the record-breaking IMAX(R) 3D release of the highest grossing movie of all-time, IMAX Corporation and Twentieth Century Fox today announced that Avatar: Special Edition will open in 175 IMAX(R) theatres worldwide - 125 domestic and 50 international locations - on August 27, 2010, simultaneously with the motion picture's re-release in conventional theatres. This enhanced release will feature approximately nine additional minutes of never-before-seen footage and offers fans the opportunity to see it in IMAX theatres for a limited time only. Avatar has been digitally re-mastered into the unparalleled image and sound quality of The IMAX Experience(R).

Avatar is the story of an ex-Marine who finds himself thrust into hostilities on an alien planet filled with exotic life forms. As an Avatar, a human mind in an alien body, he finds himself torn between two worlds, in a desperate fight for his own survival and that of the indigenous people. More than ten years in the making, Avatar marks Cameron's return to feature directing since helming 1997's Titanic, the highest grossing film of all time and winner of eleven Oscars(R) including Best Picture. WETA Digital, renowned for its work in The Lord of the Rings Trilogy and King Kong, incorporates new intuitive CGI technologies to transform the environments and characters into photorealistic 3D imagery that will transport the audience into the alien world rich with imaginative vistas, creatures and characters.

Avatar: Special Edition An IMAX 3D Experience is scheduled to play at the following IMAX(R) Theatres beginning August 27th.

UNITED STATES

Alaska

Anchorage -- Regal Tikahtnu Commons & IMAX

Fairbanks -- Regal Goldstream Stadium 16 & IMAX

Arizona

Glendale -- AMC Westgate 20 with IMAX

Mesa -- Dickinson Gateway 12 IMAX Theatre

Phoenix -- AMC Deer Valley 30 with IMAX

Phoenix -- AMC Desert Ridge 18 with IMAX

Tempe -- Harkins Arizona Mills IMAX

Arkansas

Little Rock -- Dickinson Chenal 9 IMAX Theatre

California

Alhambra -- Regal Renaissance Stadium 14 & IMAX

Aliso Viejo -- Regal Aliso Viejo Stadium 20 & IMAX

Arcadia -- AMC Santa Anita 16 & IMAX

Camarillo -- Regal Camarillo Palace Stadium 12 & IMAX

Covina -- AMC Covina 30 with IMAX

El Dorado Hills -- Regal El Dorado Hills Stadium 14 & IMAX

Emeryville -- AMC Bay Street 16 & IMAX

Escondido -- Regal Escondido Stadium 16 & IMAX

Fairfield -- Regal Fairfield Stadium 16 & IMAX

Irvine -- Regal Irvine Spectrum IMAX

Long Beach -- Regal Long Beach 26 & IMAX

Los Angeles -- AMC Century City 15 & IMAX

Los Angeles -- Rave 18 & IMAX (formerly The Bridge: cinema de lux)

Los Angeles -- AMC Universal Citywalk Stadium 19 with IMAX

National City -- AMC Plaza Bonita 14 & IMAX

Orange -- AMC 30 At The Block with IMAX

Riverside -- AMC Tyler Galleria 16 with IMAX

Rowland Heights -- AMC Puente Hills 20 with IMAX

Sacramento -- Esquire IMAX

San Diego -- AMC Palm Promenade 24 & IMAX

San Diego -- Regal Mira Mesa Stadium 18 & IMAX

San Jose -- AMC Eastridge Mall 15 & IMAX

Santa Clara -- AMC Mercado 20 & IMAX

Simi Valley -- Regal Civic Center Plaza 16 & IMAX

South Gate -- Regal South Gate Stadium 20 & IMAX

Stockton -- Regal City Centre Stadium 16 & IMAX

Temecula -- Regal Temecula Stadium15 & IMAX

Colorado

Denver -- Regal Colorado Center Stadium 8 & IMAX

Highlands Ranch -- AMC Highlands Ranch 24 & IMAX

Westminster -- AMC Westminster Promenade 24 & IMAX

Connecticut

Plainville -- AMC Plainville 20 with IMAX

Florida

Fort Myers -- Regal Gulf Coast Town Center Stadium 16 & IMAX

Jacksonville -- AMC Regency 24 & IMAX

Orange Park -- AMC Orange Park 24 & IMAX

Orlando -- AMC Universal Cineplex 20 with IMAX

Orlando -- Regal Waterford Lakes Stadium 20 & IMAX

South Miami -- AMC Sunset Place 24 & IMAX

St. Petersburg -- Muvico Baywalk 19 & IMAX

Sunrise -- Regal Sawgrass Stadium 23 & IMAX

Tallahassee -- AMC Tallahassee Mall 20 with IMAX

Tampa -- AMC Veterans 24 & IMAX

West Palm Beach -- Muvico Parisian 20 & IMAX

Georgia

Augusta -- Regal Augusta Exchange Stadium 20 & IMAX

Kennesaw -- AMC Barrett Commons 24 & IMAX

Morrow -- AMC Southlake Pavilion 24 & IMAX

Hawaii

Honolulu -- Regal Dole Cannery 18 & IMAX

Illinois

Batavia -- Goodrich Randall 15 IMAX

Chicago -- Navy Pier IMAX Theatre

Hodgkins -- AMC Quarry Cinemas 14 with IMAX

Indiana

Evansville -- Showplace East 18 & IMAX

Noblesville -- Goodrich Hamilton 16 IMAX

Portage -- Goodrich Portage 16 IMAX

Kentucky

Newport -- AMC Newport Levee 20 with IMAX

Louisiana

Harahan -- AMC Elmwood Palace 20 with IMAX

Maryland

Baltimore -- AMC White Marsh 16 with IMAX

Massachusetts

Boston -- AMC Boston Common 19 with IMAX

Danvers -- AMC Liberty Tree Mall 20 with IMAX

Michigan

Auburn Hills -- AMC Star Great Lakes 25 with IMAX

Grand Blanc -- NCG Trillium Cinema & IMAX

Lansing -- Celebration! Lansing 19 & IMAX

Livonia -- AMC Livonia 20 with IMAX

Sterling Heights -- AMC Forum 30 with IMAX

Minnesota

Eden Prairie -- AMC Eden Prairie Mall 18 with IMAX

Edina -- AMC Southdale 16 with IMAX

Missouri

Independence -- AMC Independence Commons 20 with IMAX

Kansas City -- AMC BarryWoods 24 with IMAX

Nevada

Henderson -- Regal Sunset Station Stadium 13 & IMAX

Las Vegas -- Regal Red Rock Stadium 16 & IMAX

North Las Vegas -- Regal Aliante Stadium 16 & IMAX

New Jersey

Elizabeth -- AMC Jersey Gardens 20 with IMAX

Hamilton -- AMC Hamilton 24 with IMAX

Paramus -- AMC Garden State 16 with IMAX

New York

Brooklyn -- Regal Sheepshead Bay 14 & IMAX

Deer Park -- Regal Deer Park Stadium 16 & IMAX

New York City -- AMC Lincoln Square 13 with IMAX

Stony Brook -- AMC Stony Brook 17 with IMAX

West Nyack -- IMAX Theatre at Palisades Center

White Plains -- National Amusements City Center 15 IMAX

North Carolina

Charlotte -- Regal Stonecrest At Piper Glen Stadium 22 & IMAX

Concord -- AMC Concord Mills 24 with IMAX

Ohio

Columbus -- AMC Easton Town Center 30 with IMAX

Columbus -- AMC Lennox Town Center 24 with IMAX

Springdale -- Springdale 18: Cinema de Lux IMAX

Westlake -- Regal Crocker Park Stadium 16 & IMAX

Oklahoma

Oklahoma City -- AMC Quail Springs 24 with IMAX

Oregon

Tigard -- Regal Bridgeport Village Stadium 18 & IMAX

Pennsylvania

Bensalem -- AMC Neshaminy 24 with IMAX

Homestead -- AMC Waterfront 22 with IMAX

King of Prussia -- UA King of Prussia Stadium 16 & IMAX

Reading -- RC Reading Movies 11 & IMAX

South Carolina

Charleston -- Citadel Mall Stadium 16 with IMAX

Simpsonville -- Great Escape 14 & IMAX

Tennessee

Knoxville -- Regal Pinnacle Stadium Cinemas 17 & IMAX

Texas

Arlington -- AMC The Parks At Arlington 18 with IMAX

Garland -- AMC Firewheel 18 with IMAX

Houston -- AMC Gulf Pointe 30 with IMAX

Mesquite -- AMC Mesquite 30 with IMAX

Utah

Sandy -- Megaplex 17 & IMAX at Jordan Commons

Virginia

Alexandria -- AMC Hoffman Center 22 with IMAX

Hampton -- AMC Hampton Towne Centre 24 with IMAX

Midlothian -- Regal Commonwealth 20 & IMAX

Washington

Bellevue -- Lincoln Square Cinemas IMAX Theatre

Kent -- AMC Kent Station 14 with IMAX

Lacey -- Regal Martin Village Stadium 16 & IMAX

Lynnwood -- AMC Alderwood Mall 16 with IMAX

Seattle -- Pacific Science Center Boeing IMAX

Seattle -- Regal Thornton Place Stadium 14 & IMAX

Spokane -- AMC River Park Square 20 with IMAX

Wisconsin

Wauwatosa -- AMC Mayfair Mall 18 with IMAX

CANADA

British Columbia

Richmond -- Cineplex SilverCity Riverport IMAX Theatre

Ontario

Mississauga -- Coliseum 12 Mississauga & IMAX

Woodbridge -- Colossus Toronto & IMAX

Quebec

Montreal -- Cineplex Cinema Banque Scotia Montreal & IMAX

Quebec City -- Galeries de la Capitale IMAX

INTERNATIONAL

Australia

Melbourne -- Highpoint Hoyts IMAX**

Melbourne -- Melbourne Museum IMAX**

Perth -- Carousel Hoyts IMAX**

Sydney -- Entertainment Quarter Hoyts IMAX**

Sydney -- LG IMAX Theatre Sydney**

Brazil

Curitiba -- Dom Bosco IMAX Palladium Shopping Center*

Sao Paolo -- Bourbon Shopping Center Espaco Unibanco Pompeia IMAX*

Costa Rica

San Jose -- Nova Repretel Cine IMAX Centro Comercial Avenida Escazu*

France

Lyon -- Pathe Carre de Soie

Paris -- Cinema Pathe Quai d'Ivry

Paris -- Gaumont Disney Village

Rouen -- Gaumont Rouen Grand Quevilly

Guatemala

Guatemala City -- Circuito Alba IMAX Pradera Concepcion*

Hong Kong

Hong Kong -- UA iSQUARE IMAX Theatre**

Hong Kong -- UA MegaBox BEA IMAX Theatre**

India

Mumbai -- Big Cinemas IMAX Theatre

Japan

Kanagawa -- 109 Cinemas Kawasaki*

Minoh -- 109 Cinemas Minoh*

Nagoya -- 109 Cinemas Nagoya*

Saitama -- 109 Cinemas Shobu*

South Korea

Daegu -- CGV Daegu**

Gwangju -- CGV Gwangju**

Ilsan -- CGV Ilsan**

Pusan -- CGV Seomyun**

Seoul -- CGV Wangsipni**

Seoul -- CGV Yongsan**

Mexico

Guadalajara -- Cinepolis Galerias IMAX Theatre*

Juarez -- Cinepolis Las Misiones Cd. Juarez IMAX Theatre*

Mexico City -- Cinepolis Perisur IMAX Theatre*

Mexico City -- Cinepolis Universidad IMAX Theatre*

Monterrey -- Cinepolis Galerias Valle Oriente*

Toluca -- Cinepolis Galerias Metepec IMAX Theatre*

Philippines

Cebu -- Cebu

Manila -- SM City North Edsa Mall IMAX

Russia

Moscow -- KinoStar City @ Mega Belaya Dacha IMAX**

Moscow -- KinoStar Teply Stan IMAX**

Perm -- Kristall IMAX**

St. Petersburg -- Coca-Cola IMAX Kinostar City**

Ufa -- IMAX Iskra Theatre**

United Kingdom

Birmingham -- IMAX Cinema at Millennium Point

Cardiff -- Odeon Cardiff IMAX

Gateshead -- Odeon Metrocentre IMAX

Glasgow -- Glasgow Science Centre IMAX Cinema

Greenwich -- Odeon Greenwich IMAX

Liverpool -- Odeon Liverpool

London -- BFI IMAX London

Manchester -- Odeon Manchester IMAX @ The Printworks

Southampton -- Odeon Southampton IMAX

Wimbledon -- Odeon Wimbledon IMAX

Please check local listings or IMAX.com for final theatre listings, launch dates and showtimes.

** denotes earlier launch * denotes later launch