A few days ago, Keanu Reeves told MTV he's ready for Bill and Ted 3, and that there's actually a script being developed, and today, his film world other half has corroborated his claims. Alex Winter, best known as playing Reeve's sidekick Bill S. Preston, Esq. in Bill and Ted's Excellent Adventure, has told MTV that a third adventure for the two stoner-ish rockers in the works.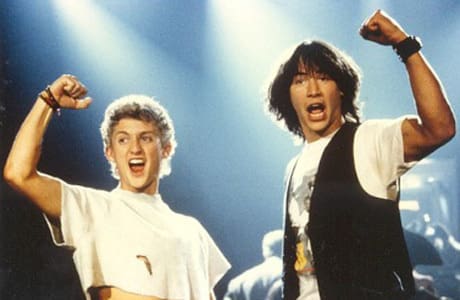 "We kicked around the idea over the years and had always thought if we could make something that was as kind of genuine in spirit as the originals and without falling prey to kind of retro cynicism or something that was unnecessary, it would be worth doing," Winter said. "Now the cat's out of the bag, and the truth is that, yeah, we have finally hit upon an idea that we think is pretty great."
Winter also notes that series creators Ed Solomon and Chris Matheson are working on a screenplay. Although Winter is tight-lipped on the plot details, it's clear that the new film will pick up some 20-odd years after the events of Excellent Adventure and its 1991 sequel Bogus Journey:
"The essence of what we've always wanted to do is to make a 'Bill & Ted' movie," he said. "We don't want to make a cynical 'here's Bill and Ted — you guys are our kids, now YOU guys go be Bill and Ted and the franchise can live for another 25 years!' It's not that. It's a straight up, what's the funniest and most surprising take on where Bill and Ted would be right now if we stopped back in on them? That's what we're doing."
What's that you say? George Carlin is dead, so what about Rufus? Thankfully, recasting Rufus isn't an option for Winter:
"That would be horrible," he said. "That's the thing about the movies — they're personality-based. It's Reeves' personality when he's doing comedy, it's my personality and it was George's personality. It doesn't really work when you're pretending that other people are those people, because there's just not that much there [otherwise]. No, we're definitely not going to recast Rufus."
So when can you see Bill and Ted 3? Well, not immediately that's for sure, but Winter hopes it will be soon:
"We would love to not be doing this when we're 60, I'll leave it at that," he laughed. "That would involve some major rewrites! In all seriousness, it's a question of when the script is done, when Reeves is free, when I'm free, and getting the whole damn thing up and running. It's a whole process. The first thing we have to do is see if we've got a script that we all agree on."