Courteney Cox and Ghostface in First Official Photo from Scream 4, Plus Interviews with the Cast on Set!
by Rupert Pupkin at . Comments
The first official photo from Scream 4 has been released, and as expected, it prominently features Courteney Cox reprising her role as reporter Gale Weathers, apparently being stalked by the notorious Ghostface killer. Entertainment Weekly has released the photo, and Entertainment Tonight has an exclusive behind the scenes look at the making of the film, which aired a few nights ago.
Check out the new photo below, and see the ET segment after the jump, including another video of extended interviews with Cox, Neve Campbell, David Arquette, Emma Roberts and director Wes Craven. Scream 4 is scheduled to hit theaters on April 15th, 2011.
Click the thumbnail to view larger, and don't forget to see all of our Scream 4 pictures in the gallery!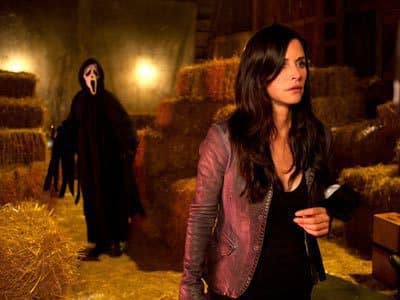 [video url="http://www.moviefanatic.com/videos/scream-4---complete-behind-the-scenes-from-entertainment-tonight/" title="Scream 4 - Complete Behind The Scenes From Entertainment Tonight"] [/video]
[video url="http://www.moviefanatic.com/videos/scream-4-interviews---from-entertainment-tonight/" title="Scream 4 Interviews - From Entertainment Tonight"] [/video]