SPOILER ALERT: If you haven't seen Inception yet, don't read this post, as it will give away the ending.
One of the hottest topics this past summer was the ending of Inception, which we've explored in detail with our Inception Ending Explained editorial. The only thing that can really be said for sure is that Christopher Nolan intended the film's final moments to be up to speculation, allowing the audience to make up their own minds about what happened to Dom Cobb, and probably, to get people to watch the film more than once.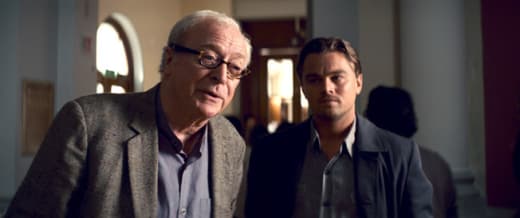 Well, now cast member and frequent Nolan collaborator Michael Caine has weighed in with his interpretation of the ending. Caine expressed his thoughts during an interview with the BBC's Chris Moyles, where he also spilled some beans about Batman 3.
Check out what Caine thinks after the jump!
And Michael Caine thinks... (drum roll, please!) ...that Dom Cobb is in reality at the end. Kind of disappointing, huh? Maybe I'm just cynical, but I can't accept an ending where everything is okay, after all of the inconsistencies that Nolan peppered throughout the film. I also don't buy such a simple, saccharine ending to what is a rather complex film, it kind of cheapens the rest of it.
Let us know what you think! Is Michael Caine right? Or is he a bit confused about what he saw (and acted in)? (A note to you "real" fanboys- this doesn't mean Nolan actually intended the ending to be in reality, it's just Caine's opinion.)