If you've seen Irreversible, the highly controversial film by independent filmmaker Gaspar Noe, then you'll have a good idea of what to expect from his latest effort, Enter the Void, a visually haunting, often frenetic, kinetic and hypnotic exploration of drug use and the afterlife. Suffice to say, if you hated Irreversible, you'll probably hate Enter the Void, too.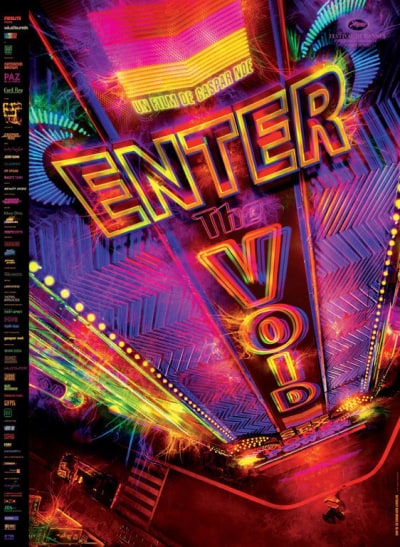 I have to be honest when I say I really like Irreversible, but I can't bring myself to watch it. It's a film that really only needs to be viewed once, or more precisely, it's a film that the viewer can only bear to watch once. If you were to watch it once a day, you'd quickly become either suicidally depressed or a serial killer.
While I can't quite say that Enter the Void will have a similar effect, it uses many of the same devices to tell its story- a floating camera, fluid editing (meaning there are no real hard cuts, more like slick transitions to move from scene to scene) and a plethora of CGI to stitch sequences together, whipping across huge distances in a heartbeat. But where Enter the Void takes a bold step forward is in its attempt to simulate first-person visions of hallucinogenic drug use and out-of-body experiences, alternately employing a combination of fuzzy, grainy images and bright, vivid colors to paint the story. 
The plot is about as esoteric as Noe's visual style, following Oscar, a young drug dealer who lives in Tokyo with his sister, both of whom were orphaned at an early age. One night, Oscar delivers some pills to a friend and ends up being shot to death in a bathroom by the police. From there, we follow the film's story back and forth in time, from the perspective of Oscar's soul, who sees both the moments that led up to this point, as well as the aftermath that follows his death, all while on his path to what would seem to be reincarnation.
If that sounds trippy, it's meant to be, taking cues from the Tibetan Book of the Dead, a Buddhist tome that explains how souls find their way into new vessels after death. Oscar's trip isn't so much a spiritual journey as it is a literal translation of gist of the book, as explained by Oscar's friend Alex earlier on in the film.
[video url="http://www.moviefanatic.com/videos/enter-the-void-trailer/" title="Enter The Void Trailer"] [/video]
As with any Noe film, it's populated with severe amounts of nudity, drug use, almost hardcore sex, hints of incest, unsavory characters, and some genuinely disturbing (and unnecessary) visuals. And did I mention spastic flashes of light that could easily cause epileptic seizures? All in all, it's a fascinating approach to storytelling, using the camera in both a third person and first person perspective simultaneously, making a strong comment about the nature of voyeurism. One could say the camera being the soul's point of view, able to move in and out of other characters' heads, is the ultimate voyeuristic adventure.
But also like any Noe film, it's a tad self-indulgent and could use a nice trimming here and there, even though the film's original 2 hour 45 minute length has been curtailed to a less than svelte 2 hour 17 minutes. While reports are that the second half of the film has become much more streamlined in comparison, there are moments that simply drag on way too long, particularly the many "float overs" of Tokyo at night and the periodic "flash-outs" that engulf the screen in pulsating light for uncomfortably long periods of time. Yes, this is all in the attempt to make the story more experiential, but it becomes taxing after a while. Oh, and the film's climax is all too literal. I won't spoil it for you, but I will say it generated quite a bit of laughter in the theater.
Word on the street is that IFC is giving this a very limited release with a very slow roll out, but if you're lucky, you might be able to catch it in your local art house theater or on your own television On Demand. I can't quite recommend it, because it's really an acquired taste, but if you're into drugs, sex, death, and Eastern philosophies, I'm sure you'll find something interesting to reflect on here.