Resident Evil: Afterlife blasted out of the gates this weekend with $27.7 million, making it the biggest opening of all the Resident Evil films and putting it at the top of the box office charts. Worldwide, the film brought in a total of $73.2 million. Still, at least 2,000 of the film's 3,203 theaters were playing 3D, which means higher ticket prices, which could mean it actually isn't performing any better than 2007's Resident Evil: Extinction. Either way, it's not a bad opening for a September release that cost $60 million to make.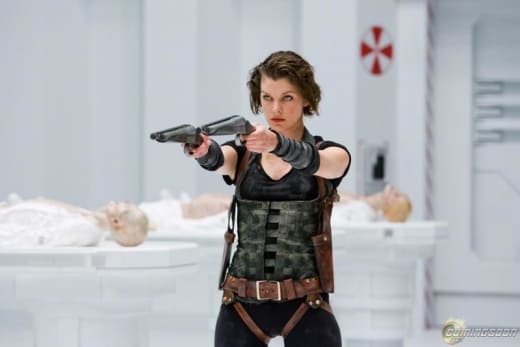 Screen Gems took #2 as well this week, with Takers garnering an extra $6.1 million to end up with a three-week total of $48.1 million. Third place belonged to The American, which dropped 55% to earn $5.9 million, adding up to a two-week total of $26.7 million.
Machete took a big hit, about 63%, to land in fourth place, earning only $4.2 million in its second week. The film has made about $20.8 million so far. And finally, Going the Distance ended up in fifth place, adding $3.8 million for a two-week total of about $14 million.
Check out the Top 5 numbers below:
Resident Evil: Afterlife - $27,700,000
Takers - $6,100,000
The American - $5,896,000
Machete - $4,200,000
Going the Distance - $3,835,000